The Online Industrial Exhibition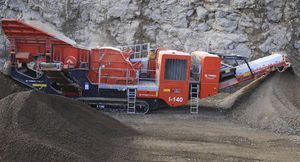 hydraulic impact crusher
I-140
The Terex Finlay I-140 shapes the future through innovation. This new generation impact crusher with redefined style and advanced technological design gives improved material flow and production capabilities in quarrying, ...
See the other products
TEREX Mobile Processing Equipment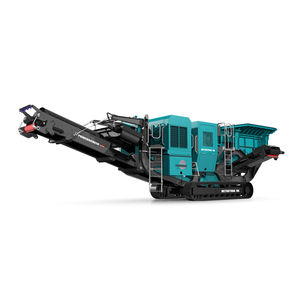 Capacity: 0 t/h - 200 t/h
... operators, even at difficult working conditions. In addtition, the Metrotrak HA comprises of M series single toggle jaw crusher as well as hydraulic adjustment that delivers rapid and convenient changing of finished product size.
See the other products
Powerscreen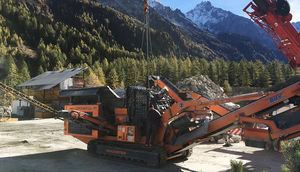 ... installed on the same chassis and changed from jaw crusher into impact crusher in shortest time - and vice versa. So the track-mounted impact crushers R900 and R1100DS can also be ...
See the other products
Kormann Rockster Recycler

toothed roller crusher
MGB series
Capacity: 15 t/h - 50 t/h
... crushing teeth at the crusher roller, individually shaped, can be re-armored when worn Discharge grate, segmented, in manually movable or hydraulically supported execution Single-shaft-principle; power transmission ...
See the other products
Dieffenbacher

vertical-shaft impact crusher
ZS
Capacity: 0 t/h - 500 t/h
... shaft impact crusher is a kind of crushing machine equipped with only one motor, which is mainly used in artificial sand making and shaping. Thanks to its unique technology of single motor operating, Zs series vertical ...
See the other products
CamelWay Machinery Manufacture Co., Ltd.

Standard motors with starters + overload protection Cast Iron construction with Mild Steel base frame V-belt driven with pulley and flywheel guards Reversible Manganese Steel jaws Discharge opening as easily adjustable ...
See the other products
ERIEZ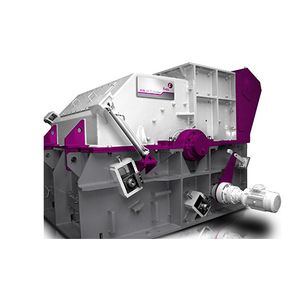 Capacity: 100 t/h - 1,300 t/h
The FCB VIF™ crusher is an impact crusher equipped with hammers and a non-clogging Mobile Anvil Device (MAD). The high speed rotor supports 6 rows of light or heavy hammers and is also fitted with grate ...
See the other products
Fives Cement | Minerals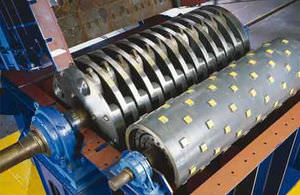 Capacity: 2,500 t/h
EV™ Hammer Impact Crusher The proven and reliable FLSmidth EV™ Hammer Impact Crusher is a cost-effective solution for processing abrasive and moderately sticky raw materials in one stage Key benefits Single ...
See the other products
FLSmidth Dorr-Oliver Eimco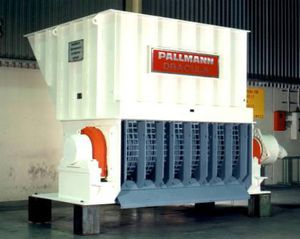 centrifugal rotor crusher
PBEW "Dracula"
Capacity: 8 t/h - 30 t/h
The pre-crusher, type PBEW "Dracula" was developed to improve the capacity of downstream preparation machines and the size reduction of voluminous residual and waste wood such as packaging materials, pallets, construction ...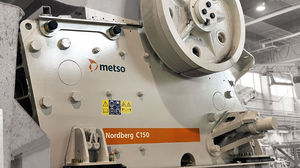 jaw crusher
Nordberg® C series
Capacity: 335 t/h - 1,435 t/h
... jaw crushers are engineered for the toughest feed materials. They are proven to be reliable and productive in thousands of real mining, quarrying, recycling and industrial applications. You can rely on the Nordberg C ...
See the other products
Metso Automation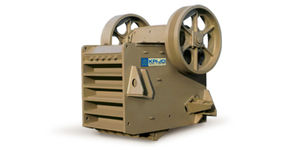 jaw crusher
Vanguard® Plus series
Capacity: 216 t/h - 816 t/h
Vanguard Plus Jaw Crushers The Vanguard Plus series from KPI-JCI represents the very latest in jaw crusher technology. Engineered to be the highest capacity jaw crusher on the market, ...
See the other products
KPI-JCI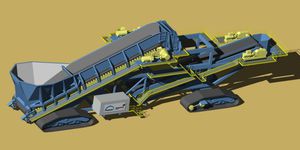 double-roller crushing plant
TMCs
Capacity: 3,000 t/h - 12,000 t/h
... developed mobile crushing plants as a modular system for a capacity range from 3,000 to 12,000 t/h. This versatile system serves as a flexible link between mining shovel and face conveyor. The TMCS® can be equipped with ...
See the other products
TAKRAF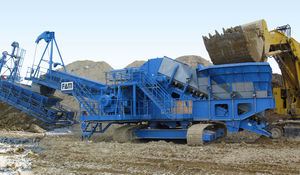 Capacity: 4,000 t/h
... mine Uzbekistan 3x crushing plants on crawlers FZWB2025 overburden 4000 t/h double roller crusher ZWB2025 apron feeder AF2600x21 belt conveyor stationary GF2000x24 Processing plant Opencast ...
See the other products
FAM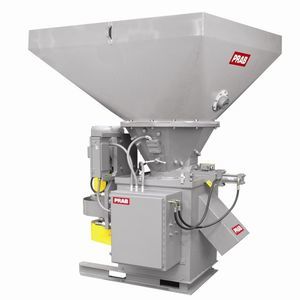 vertical-shaft impact crusher
Capacity: 907 kg/h - 1,814 kg/h
... management process begins with a crusher for volume reduction. The Vertical Axis Crusher is one of the most effective pieces of equipment for quickly and safely making flowable, thumbnail-sized chips ...
See the other products
PRAB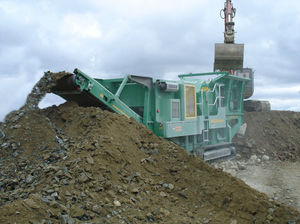 ... jaw crusher provides contractors with a highly portable option while meeting all production expectations. At 2.5 metres wide, the J40 jaw crusher is ideal for applications that require a high degree of ...
See the other products
McCloskey International Limited

Capacity: 300 t/h
MXJ-1100 Hydrostatic Jaw Crusher The MXJ-1100 is a high performance compact jaw crusher designed to handle the following applications : • Granite, Basalt and most medium and hard stone • Quarrying ...
See the other products
Maximus Screening andCrushing

Capacity: 3 t/h - 500 t/h
The jaw crusher is specially designed for rough crushing on large size particles. Features 1. The jaw crusher is easy to use and maintain due to its simple structure. 2. The crushing equipment is characterized ...
See the other products
Henan winner vibrating equipment CO.,LTD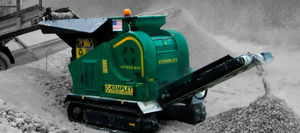 jaw crusher
LEM TRACK 4825
Capacity: 6 t/h - 15 t/h
The LEM TRACK 4825 model (towable version also available as LEM TRAIL 4825) is a compact jaw crusher with hydraulic adjustment for its granulometry output. Compact, fully remote controlled and easy to transport, allows ...
See the other products
Komplet Italia srl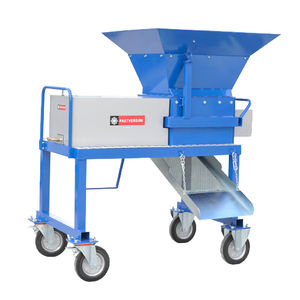 double-roller crusher
MTH 500
Double shaft crusher with special, high resistance steel blades, for crushing all types of building material including slabs of asphalt, very hard rock, concrete blocks including reinforced, granite rocks, obtaining material ...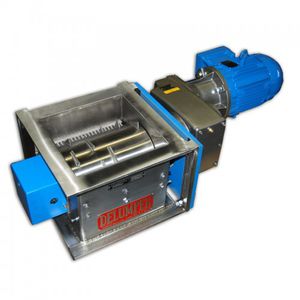 single-roller crusher
Delumper® L
The Delumper® L Series Crushers reduce product to a desired output size with a positive, once through, chopping action. Cutting teeth mounted to a smooth drum rotate through sizing combs to process agglomerates and chunks ...
See the other products
Franklin Miller, Inc.

impact crusher
Starpactor PP series
Capacity: 70 t/h - 1,800 t/h
Blow bar lifting clamp for easy maintenance Aprons are ajustable through hydraulic (assistance or complete) Heavy duty rotor with high moment of inertia Wedges : easy blow bar replacement Grinding path in option : to give a better ...
See the other products
Thyssenkrupp Industrial Solutions SAS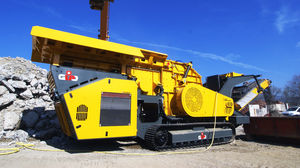 impact crusher
GIPOREC R 90 FDR
Capacity: 0 t/h - 200 t/h
Feed hopper: 4,0 m³ Feed channel: 800 x 2500 mm Pre-screen machine: 800 x 1500 mm Impact crusher inlet: 870 x 850 mm Rotor diameter: 1100 mm Crusher capacity: up to 200 t/h Discharge chute: ...
See the other products
GIPO AG

Capacity: 50 t/h - 300 t/h
BHS offers a wide variety of impact crushers (type PB) and mills (type PM) with horizontal shaft and ranging from low to medium capacity. With BHS impact crushers and mills, you obtain excellent crushing ...
See the other products
BHS Sonthofen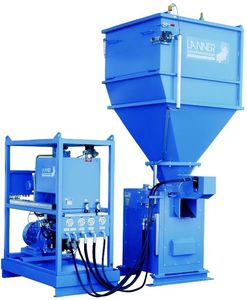 vertical-shaft impact crusher
Capacity: 100 kg/h - 10,000 kg/h
... chips and the tramp metal out through the open door. Then the door closes and the crusher starts up again. Chip crushers for crushing long chips Vertical chip crusher Possible volume ...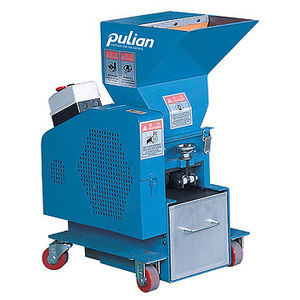 Capacity: 30 kg/h - 1,800 kg/h
Power crushing machine A series is the basic granulator equipment which contains high-class superiority, great cutting angle design, easy cleaning, rapid screen replacement, simple replacement for blades, and etc. Furthermore, the design ...
See the other products
Pulian International Enterprise Co., Ltd.