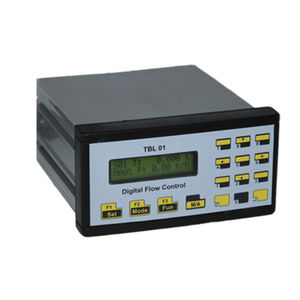 loss-in-weight system controller
TBL01 LOSSER
The industrial load cells offer up to 8 /350 ohm or up 16 /700 ohm ?excitation with 2 mV/V or 3 mV/V ? signal input and T ± 0,002% linearity. The device is built of a alphanumeric LCD display (2x20 char h 5 mm), keyboard with 10 numerical ...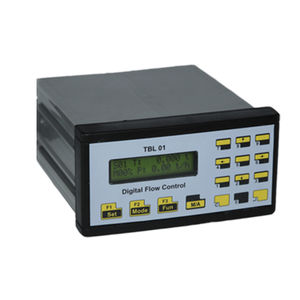 digital weight indicator-controller
TBL01 BELTER
The load cell excitation for this product is up to 8/350ohm or 16/700ohm. The signal input is 2mV/V or 3mV/V and the linearity provided is 0.002%. The number of conversions supported is up to a maximum of 60 per second, while the display ...

automatic transfer switch controller
ATS-34
The ATS-34 is a redundant ATS controller, which intelligently selects the operation sequence on the primary generator and the back up generator in case of failure from either generator to provide seamless supply of emergency back up ...

automatic transfer switch controller
ATS-PLC
The ATS-PLC a Programmable Automatic Transfer Switch (ATS) Controller with 5.7" Colorful Touch Screen. It is equipped with all of the necessary functions and provides excellent monitoring and protection for normal and emergency load. ...

automatic transfer switch controller
ATS-22A
A comprehensive ATS controller monitors Utility (mains) and Emergency (generator) power to provide safe and dependable power transfer between sources. Remote monitoring and control capability for optional USB/RS485/Ethernet/WI-FI/GSM ...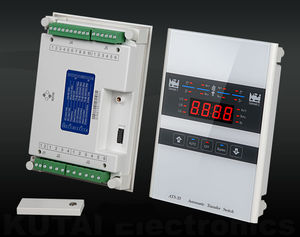 automatic transfer switch controller
ATS-33
ATS-33 controller is specially design for dual generators power system where location is without utility power. The primary generator is backed up by a secondary standby generator incase of primary start up failure or when load power ...

vocal alarm controller
110 dB | VOXALERT® AJS1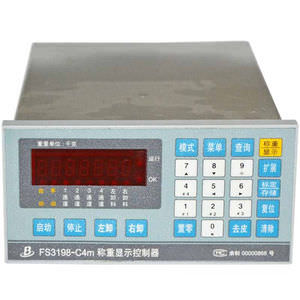 multi-channel weighing controller
FS3198-C4m series
The FS3198-C4m weighing threshold controller, can be applied to mix the material scale, weighing system or definite quantity control weighing system and so on. Because FS3198-C4m controllers threshold control function is powerful, the ...

panel-mount weight indicator-controller
FS3198-A2 series
Possess intellectual property rights which improve and develop into five generation products for our company. it adopts YAMATO of the janpanese precise measuring technique,Using Intel technology of the USA Single-chip, Closely connect ...

batch weighing controller
FS3198-C1b-007 series
Main features: static accuracy:above 3000(effective division) dynamic accuracy:±0.2%,0.5%,1.0% Adopt 7 figures and display 10LED,intuitive and convenient ways,ease in adjustment and maintenance. 1 ~8 weighing transducers of strain gauge ...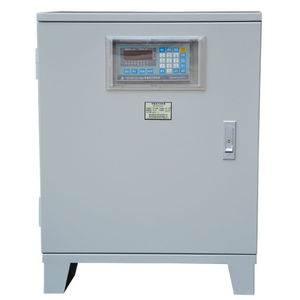 batch weighing control system
FS3198 series
Using FS3198-C31-009,C48-009,C41-009,C49 controller, we can make various weighing and batching scales system. This system can be applied concrete weighing and batching system. The scales may include aggregate scale (4 kinds of materials), ...

all pump types pump controller
IAG HD-S
The IAG HD-S model assembled by IAG, is a control unit intended for the continuous temperature control, humidification and air controlling operations. This device is equipped with a bus system and a dry running alarm, consisting of 3 ...

gear pump control unit
Dispense Control®
The Dispense Control by Pomtava S.A. is a custom gear flow meter which feature its capacity to do specific applications. Each of the unit offers an optimal draining capacity and a god flushing capability. Also, it features a minimal ...

batch controller
IP67 | Metra Count
The Metra-Batch - batch controller is especially designed to provide a high quality standard and functionality for specific performances and purposes. The machine is mainly built for machinery with pulse or frequency outputs. It offers ...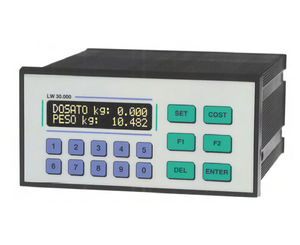 loss-in-weight system controller
LW 30000R
The LW3000R Loss-In-Weight Weighing System, manufactured by Laumas®, features a DIN-cased external layer with dimensions of 72 x 144 x 170 mm. This system has a front panel protection class of IP54 as well as a built-in 16-button keyboard. ...

process alarm controller
Alarm'Box
The Alarm Box is designed as indicators and alarms from one to three levels. It has stages in which each of it comes in modules of eight to 32 channels, or 96 channels over all. This tool may incorporated with various states of similar ...

constant potential X-ray generator control unit
POWERBOX
THE CONTROL UNIT FOR CONSTANT POTENTIAL X-RAY GENERATORS ICM has designed the first ever Plug & Play control unit for X-ray portables. Light yet robust, it offers a multi-working positions handle and a highly intuitive multilingual ...

constant potential X-ray generator control unit / for crawlers
CP RCU
Our CP generators for crawlers are equipped with the the Remote Control Unit. This pocket-sized CPRCU is completely removable, weights only 0.28 kg and includes a LCD display and polyester keypad.

directional and panoramic X-ray generator control unit
SCU286
THE CONTROL UNIT FOR SITEX and SITEXS X-RAY GENERATORS To guarantee the accuracy of the radiological parameters the SCU286 has a system for direct measurement of the high voltage delivered by the X-ray generator. Based on this data ...

constant potential X-ray generator control unit / for crawlers
SITEX CCU186
CCU186R REMOTE CONTROL Fitting a complete control unit, including display and keypad, to a crawler needlessly exposes components which are more fragile by nature to the extreme intra-tube conditions. The ICM solution is an independent ...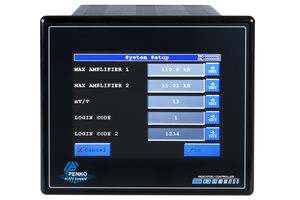 multi-channel weighing controller
PENKO FLEX Force
This PENKO FLEX Force is user friendly designed. The graphical colour screen, the ease to operate and the high speed measuring makes this PENKO instrument in line with the PENKO Range.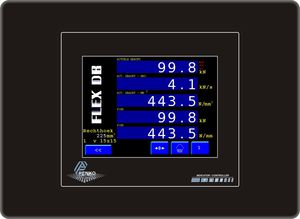 weighing controller
PENKO 2100
This PENKO 2100 Force is user friendly designed. The graphical colour screen, the ease to operate and the high speed measuring makes this PENKO instrument in line with the PENKO Range.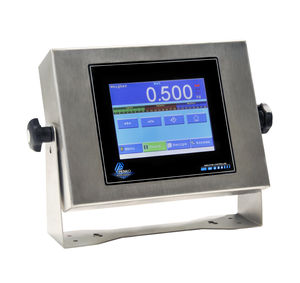 weighing controller
FLEX 2100 SS
The PENKO FLEX™2100 panel controller and indicator is used in different weighing applications. It is integrated with a high speed A/D conversion rates feature that enable an accurate operations. Measurement of packing scales, hopper ...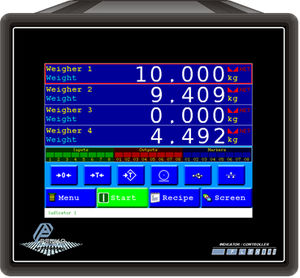 multi-channel weighing controller
FLEX Multichannel
The latest innovative FLEX touch-screen technology from Penko features six instruments that are pre-programmed to work out of the box. The complete range of versions include Penko's innovative patent-pending G-Cal™ auto-calibration ...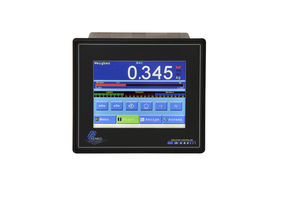 weighing controller with touch screen
FLEX™
Flex2100 Panel Mount Controller & Indicator is the fastest and most accurate industrial weighing instrument. It aids in controlling one or more processes simultaneously. It can measure up to 1600 measurements/second with highest ...

screwdriving controller
SKP-40B
Power controller, SKP-40B for brush-less screwdrivers is a simple, compact yet high performing device. It comes in 4 different models to suit the customer need. This particular model, SKP-40B uses an input voltage of AC 100-240V 50/60Hz. ...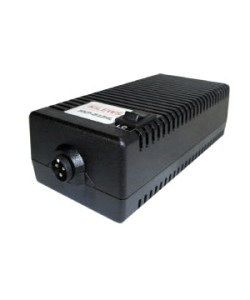 screwdriving controller
SKP-BE32HL
This has a power switch and has an on or off indicator. It has two types of output voltage, Hi and Lo. It has AII controllers which have power source light indicator. The green light indicator indicates the normal while the red light ...

screwdriving controller
SKP-32BC-60W
The SKP-32B-60W from KILEWS is designed with ON/OFF indicator and it has high and low voltage outputs. All the controllers are designed with power source indicator to provide the status. It support variant plug type for different country. ...

Application: Level processor modules Features: Level and capacity measurement in tanks, linearization, differential pressure measurement

level controller
VNV, ZNV series
1 level control with switch-on / off delay; 0,1-100 kOhm Active output 24 VDC, Power supply 24 VDC

For product line float switches, Engler offers an add-on now. The series can be upgraded with a min-max level competitive control. At the level switching points a relay can be switched off or on and it is defined by the end-user. At ...

electronic control unit for flow meters
65 - 900 mm, 37 - 3 500 l/s | 106 / 206-2SC-MV
The 106 / 206-2SC-MV combines precise flow control and quite accurate metering system to save space and cost. This PLC-based control panel is very compatible with the SCADA system. You have manual control when in an emergency. With its ...

ultrasonic tension controller
TLM
The TorcUP model TLM is a state of art Ultrasonic Bolt Tension Monitor specially developed to measure the actual elongation produced by tightening a threaded fastener. This product has the capability to measure the fastener's elongation ...

The Galvatek offers an array of devices used in controlling and monitoring fluid levels namely, ENR200-300, ENR200-300, and ETS410. These devices restricts overflow, restrict out of liquid functioning and can adapt rapidly to electronics. ...

Measuring and controlling instrument with microprocessor , designed for common applications of the screwing techniques. The screwing can be controlled according to the criteria of torque and angle (optional). The input parameters are ...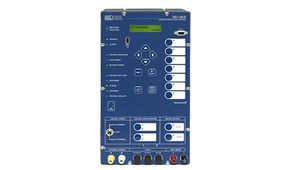 voltage regulator controller
SEL-2431
The SEL-2431 Voltage Regulator Control is compatible with most 32-step, single-phase voltage regulators manufactured in North America. Use various hinge and wiring kits to easily upgrade existing controls without removing the regulator ...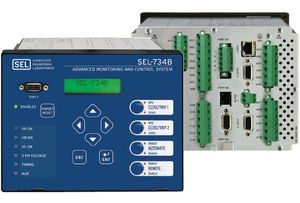 capacitor bank controller
SEL-734B
The SEL-734B provides advanced monitoring and control capabilities for applications such as three-phase capacitor bank control and feeder automation. Advanced communications report instantaneous data to SCADA systems and even allow remote ...

all pump types pump controller
DCP series
Dragflow has developed a line of advanced electric control panels that allow real time and historical monitoring of pumps and dredging equipment. With our control panel remote engineers can control working operations and inspect downtime ...