data acquisition software
AvaSoft - Basic
AvaSoft-Basic is a free software provided with the AvaSpec range of spectrometers. The software is designed with user satisfaction and convenience of utility in mind. It has extremely easy to use controlling options, an easy user interface ...

data acquisition software
AvaSoft-Full, AvaSoft-All
The AvaSoft-Full and AvaSoft-All by Avantes is a Data acquisition software designed for spectrometers. The AvaSoft-Full version has an interface with a table which shows all the similarities and differences between two versions. On ...

The AvaSoft Application Software - Color provides a precise way to perform color measurements using the basic principles and techniques defined by the International Commission on Illumination (CIE). The CIE 1976 L*a*b* color parameters ...

process control software
AvaSoft-Raman
Included with the AvaRaman systems, AvaSoft-Raman enables full control over your Raman spectroscopy system. In addition to most of the features available in AvaSoft-FULL, AvaSoft-Raman, which is a standalone application, also features: ...

measurement software
TFProbe®
Thinfilm Multi-Layer Measurement Software To measure film thickness and optical constants (n & k) up to 5 layers, TFProbe© multilayer thin film measurement software is the ideal software. It can be used for real-time or in-line thickness ...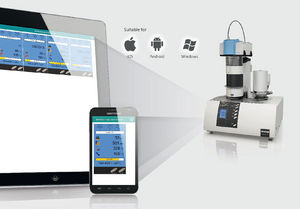 The Instrument Cockpit App from Netzsch provides enhanced efficiency in viewing the status of Netzsch instruments. It offers an overview on the measurements operating in laboratories, and allows control of the Thermal Analyzer without ...

induction heating software
eVIEW™
The eVIEW™ software is specifically designed to provide a high quality functionality to its related applications. The software is a PC-based application mainly used for real-time visualization, storage of process data from the heating ...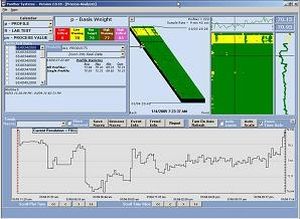 measurement software
GaugeToolsXL
Every Series 710e Gauge is supplied ready to use for the application and measurement ranges required for your product and process, and contains a set of measurement formulae or "algorithms" which ensure that the gauge responds in a proportional ...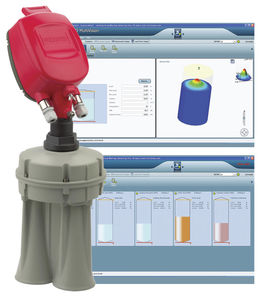 monitoring software for 3D acoustic level sensors
3D MultiVision
The 3D MultiVision is a software from BinMaster that is used with Windows operating systems. These are used for 3D scanners that aims to view multiple bins, and are compatible with all variants of the 3D Level Scanners. This permits ...

automation software
ProNC

automation software
PalPC

measurement software
LumaSpec™ R/T
The LumaSpec™ R/T Software supports a dynamic quality system which incorporates a superior performance and functionality in a single unit. The Windows-Based Thermal Imaging Software provides an excellent job in the high-speed real-time ...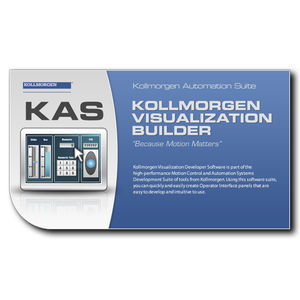 HMI terminal programming software
Kollmorgen Visualization Builder™
Kollmorgen Visualization Builder™ is our graphical tool for building the software that defines the human machine interface. An integral part of the total Kollmorgen Automation Suite™ development environment, Kollmorgen Visualization ...

test software
testXpert® II
Zwick's testXpert II is an updated version of the standard materials testing software systems. This system has been designed on the most recent Microsoft operating platform, using comprehensive levels of software technology. With over ...

management software
Breton FabMaster
"Breton FabMaster" is the ideal solution for small workshops, capable of managing and controlling all the different phases linked with the project of a kitchen top, vanity top, etc. Modules composing the software Want to browse through ...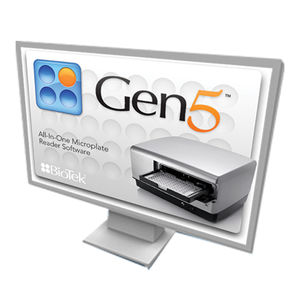 software / data acquisition and analysis
Gen5
The Gen 5 Version 2.0 series of data analysis softwares from Biotek are microplate reader softwares that are engineered with 30 years of expertise. They incorporate powerful and easy services which provides time efficient production. ...

scanning electron microscope (SEM) application software
Phenom Pro Suite
The Phenom Pro Suite was engineered to allow Phenom operators to extract optimum data from the pictures created using Phenom desktop scanning electron microscope (SEM). It can expand the abilities of Phenom which is a high-resolution ...

scanning electron microscope (SEM) application software
Fibermetric
The Fibermetric is an application developed by the Phenom World company. Its main function is that it permits the production of the accurate size information from micro and nano fiber samples. Recent developments have made the ...

automated logistics software
KePol@Lab
The KePol@Lab is a device where majority of the systems in a complete implementation can be encountered and examined without the requirements to start a large project. This tool is ready to be utilized within six weeks, as some setup ...
See the other products
KEBA

automated logistics software
KePol@Pilot
KePol@Pilot is designated for evaluating entire KePol solution in a field trial thereby providing the opportunity for adding individual functionalities to regular implementation. Keeping the pilot in the center of attention the IT ...
See the other products
KEBA

automated logistics software
KePol@KEBA
The KelPol@Customer provides individual modification through the cooperation of KEBA's logistics specialists. This product line offers cost-efficient equipments which are both flexible and reliable. Operations are usually done either ...
See the other products
KEBA

automated logistics software
KePol@Customer
The KelPol@Customer provides individual modification through the cooperation of KEBA's logistics specialists. This product line offers cost-efficient equipments which are both flexible and reliable. Operations are usually done either ...
See the other products
KEBA

data acquisition software
Keba data recorder is used for diagnosis in industrial applications. It is a central service through which control of data recording from firmware and system is enabled. It allows locally saving the data on the control as well as direct ...
See the other products
KEBA

optimization software
eSync
eSync is a secure data connector between remote eWON time-stamped values and alarms and a central server location. Collecting data from your remote assets allows added-value services such as energy efficiency, process optimization, predictive ...

automation software
WINPAC
Programme development system WINPAC Features - settings of the PA-CONTROL - programme diagnosis in automatic mode - up- and download of all programme - menu is perfectly designed for efficient programme generation - remote diagnosis - ...

automation software
PA-CAM
2D-/3D software for generation of CNC programmes PA-CAM Features - CAD/CAM for flexible CNC processing - CAD data assumption with CNC-compatible preparation of the geometry information - well-structured window technology - visualisation ...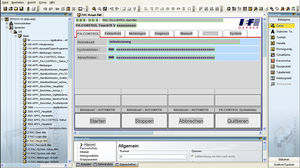 automation software
TSwin
TSwin Project planning system for production of visualisation solutions for PA-Control Touch - generation of projects for text and graphics panels and devices with a Windows CE operating system - high flexibility from functional expandability - ...

design software
elecworks™ Onboard
Elecworks Onboard™ is a software for the electrical design of the on-board systems. This CAD solution answers to the electrical projects which require specific needs regarding management and design in the aerospace, railway, automobile ...

automation software
Elecworks™ Fluid
Elecworks™ Fluid is a specific solution that allows you to design hydraulic & pneumatic automatisms. Created for the professionals of the hydraulic and pneumatic design, Elecworks™ Fluid is integrated in the Elecworks licence & permits ...

control software
SX-MMI Remoting
Remoting machine control through Ethernet MMI control "Easy machine control from your desk" through your internal Ethernet line. Machine inter-action control.

automation software
Isagraf V3
The Isagraf workbench is a workbench published by the Isagraf Rockwell Automation company. It uses the 5 IEC61131-3 languages : * SFC : Sequential Flow Chart (Grafcet) * ST : Structured text * LD : Ladder diagram * IL : Instruction ...

configuration software
OPAL32
Leroy's OPAL32 is a configuration tool designed for the LT160. It contains a rapid start up feature, and does not require composite software skills for straightforward functions. Plus, it does tasks like duration counters, edge counters ...

IRTA is the DES software for NDT, process monitoring and stress analysis. It can be integrated with FLIR thermal cameras SC series. IRTA has a user-friendly interface, providing operators with an optimal use and a rapid image query. ...

reporting software
Software AquaProfiler®
Windows-based Software AquaProfiler® is delivered as a CD or can be downloaded from the internet. After installation on a notebook or a tablet PC type HDA-Pro, it can carry out a series of communication with the system and the following ...

reporting software
Software Q
The Software Q by Hydro vision gmbh features its efficiency in recording, evaluating and analyzing reports of current meter measurements as well as other electronic velocity sensors. This is the software that suits to specific operation ...