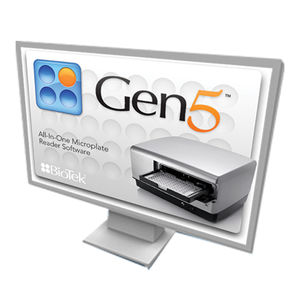 software / data acquisition and analysis
Gen5
The Gen 5 Version 2.0 series of data analysis softwares from Biotek are microplate reader softwares that are engineered with 30 years of expertise. They incorporate powerful and easy services which provides time efficient production. ...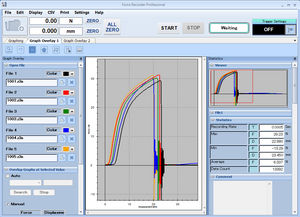 data acquisition software
Force Recorder Professional
Imada data acquisition software has been designed for analysis of force-displacement. Data is acquired at a high sampling rate from the IMADA ZTA series force gauge and a linear scale, ensuring real-time drawing of force-displacement ...

vision system software
AutoVISION™
Microscans AutoVISION is a machine vision software designed for basic to mid-range vision applications. It provides efficient performance in inspection and quality control aspects. Features include a complete tool set, intuitive user ...

vision system software
Visionscape®
Generally utilized for multi-platform functions, Microscan's Visionscape® Machine Vision Software may also be used as a single-software package. This comprehensive machine vision software only requires developers to learn a single constant ...

measurement software
LumaSpec™ R/T
The LumaSpec™ R/T Software supports a dynamic quality system which incorporates a superior performance and functionality in a single unit. The Windows-Based Thermal Imaging Software provides an excellent job in the high-speed real-time ...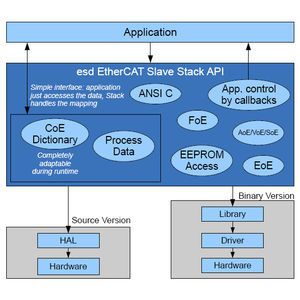 network management and configuration software
EtherCAT Slave Stack
The Ethercat® Slave stack's development makes use of the code made in ANSI-C, and is enhanced with embedded targets in line with performance and resource utilization. An API based interface gives an exact separation between application ...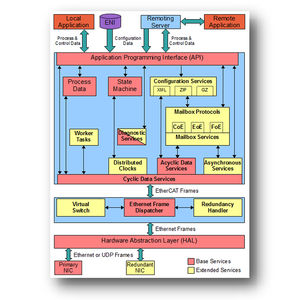 network management and configuration software
EtherCAT Master Stack
The EtherCAT Master by ESD Electronic System is a software designed for several (Real-Time) OS. The software contains configuration and management of the whole Ether CAT networks. It uses a cyclic exchange principle when processing data ...

network management and configuration software
EtherCAT Workbench
The EtherCAT Workbench by ESD Electronic System Design Gmbh is a network management and configuration software which organizes files in a system. It is supported with an online topology scan. This is the ideal software which can work ...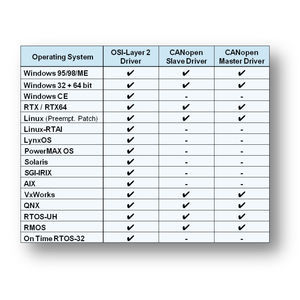 network management and configuration software
CANopen Protocol Stack
Canopen® Master/Slave for Your Application Easily Extend Your Application with Canopen Capabilities The esd Canopen gathering libraries are required to easily increase an application with Canopen boss/slave limits or to make stay singular ...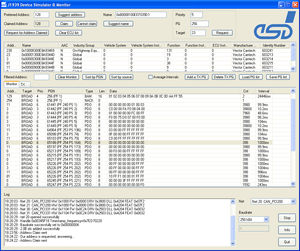 automation software
J1939 Stack
The J1939 Protocol Stack provides full support for the transport protocols, TP-BAM/TP-CM, allowing larger blocks of data to be transmitted. The SAE J1939 supports esd CAN Boards and SoC with CAN Support. With the exception of the bridge ...

control software
NICOS 2.0

induction heating software
eVIEW™
The eVIEW™ software is specifically designed to provide a high quality functionality to its related applications. The software is a PC-based application mainly used for real-time visualization, storage of process data from the heating ...

automation software
WINPAC
Programme development system WINPAC Features - settings of the PA-CONTROL - programme diagnosis in automatic mode - up- and download of all programme - menu is perfectly designed for efficient programme generation - remote diagnosis - ...

2D-/3D software for generation of CNC programmes PA-CAM Features - CAD/CAM for flexible CNC processing - CAD data assumption with CNC-compatible preparation of the geometry information - well-structured window technology - visualisation ...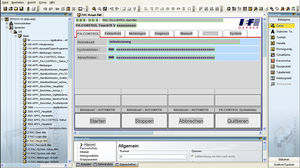 automation software
TSwin
TSwin Project planning system for production of visualisation solutions for PA-Control Touch - generation of projects for text and graphics panels and devices with a Windows CE operating system - high flexibility from functional expandability - ...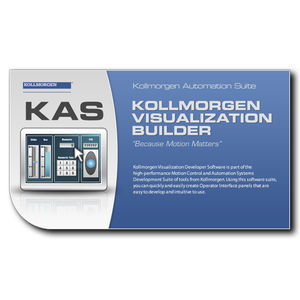 HMI terminal programming software
Kollmorgen Visualization Builder™
Kollmorgen Visualization Builder™ is our graphical tool for building the software that defines the human machine interface. An integral part of the total Kollmorgen Automation Suite™ development environment, Kollmorgen Visualization Builder ...

data acquisition software
CellaView
CellaView is a Microsoft SQL server-based database software running under Windows designed for real-time graphic display, analysis and storage of the measurement readings. Monitoring, remote control and configuration of the pyrometer ...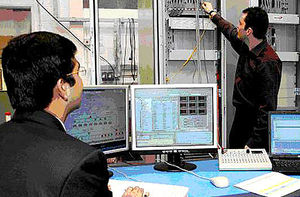 monitoring software
Vision SCADA
The Vision SCADA by CG Power Systems is a Substation automation software which features its powerful yet user friendly interface. This software is designed for substation level control and formation of key component of the CG Substation ...

calibration software
9506 Additel/PCal
The PCal Pressure Calibration Software by Additel is specifically created and designed to provide a good and high quality performance coupled with an extremely reliable functionality. The software is mainly used with pressure gauges, ...
See the other products
Additel Corporation

calibration software
9502 Additel/Log II
The 9502 Additel/Log II series of pressure measurement, testing, and calibration software from Additel provide simultaneous logging and graphing procedures for the 681 digital pressure gauge series and 672 digital pressure calibrator ...
See the other products
Additel Corporation

software / data acquisition and analysis
9503 Additel/Log II Wireless
The 9503 Additel/Log II, manufactured by Additel, is a wireless real-time data logging and graphical software designed for ADT680W wireless digital pressure gauge. It can automatically scan pressure gauges connected to the computer. It ...
See the other products
Additel Corporation

management software
9510 Additel/Cal
The 9510 Additel/Cal series of pressure measurement, testing, and calibration softwares from Additel provide task management procedures for the 22XA multi-purpose process calibrator series and the 761 automated pressure calibrator series. ...
See the other products
Additel Corporation

calibration software
9500 Additel/Land
The Land Software by Additel is provided with a high quality functionality which ensures superior performance to any related fields the software will be used. The test results can be downloaded in the internal memory of the Additel calibrators ...
See the other products
Additel Corporation

The BREYER monitoring system provides a complete monitoring solution with its fast and user-friendly operation. The system navigates the operator intuitively the required information for instant processing. The system is built with multitude ...

data acquisition software
AvaSoft - Basic
AvaSoft-Basic is a free software provided with the AvaSpec range of spectrometers. The software is designed with user satisfaction and convenience of utility in mind. It has extremely easy to use controlling options, an easy user interface ...

data acquisition software
AvaSoft-Full, AvaSoft-All
The AvaSoft-Full and AvaSoft-All by Avantes is a Data acquisition software designed for spectrometers. The AvaSoft-Full version has an interface with a table which shows all the similarities and differences between two versions. On the ...

The AvaSoft Application Software - Color provides a precise way to perform color measurements using the basic principles and techniques defined by the International Commission on Illumination (CIE). The CIE 1976 L*a*b* color parameters ...

process control software
AvaSoft-Raman
Included with the AvaRaman systems, AvaSoft-Raman enables full control over your Raman spectroscopy system. In addition to most of the features available in AvaSoft-FULL, AvaSoft-Raman, which is a standalone application, also features: ...

measurement software
TFProbe®
Thinfilm Multi-Layer Measurement Software To measure film thickness and optical constants (n & k) up to 5 layers, TFProbe© multilayer thin film measurement software is the ideal software. It can be used for real-time or in-line thickness ...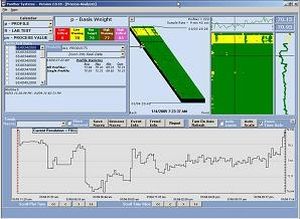 measurement software
GaugeToolsXL
Every Series 710e Gauge is supplied ready to use for the application and measurement ranges required for your product and process, and contains a set of measurement formulae or "algorithms" which ensure that the gauge responds in a proportional ...

machine vision software library
mViz
mViz is a thorough image processing and analysis library for machine vision applications. It includes all the building blocks useful for preprocessing, feature detection, calibrated gauging, template matching, character and code reading... The ...

visualization software
elecworks™ Viewer
elecworks™ Viewer is an ideal solution to increase collaborative work, and to facilitate visualisation of electrical project; you could visualize or print any electrical schematics, reports, 2D layouts made in elecworks™ or in any other ...

design software
elecworks™ for PTC
elecworks™ for PTC® Creo® is a new CAD solution for 2D & 3D electrical project; it integrates your schematics conception in 2D into your 3D PTC® Creo® project. This specific solution, elecworks™ for PTC® Creo® permits you to provide ...

design software
elecworks™ Facility
elecworks™ Facility which is a part of elecworks™ family, is a sizing and calculation software, which shows you all of the electrical conception project, it allows you to carry out your projects in full safety, energy distribution & efficiency. Designed ...

design software
elecworks™ Onboard
elecworks Onboard™ is a software for the electrical design of the on-board systems. This CAD solution answers to the specific electrical project needs regarding documents management and design in the aerospace, railway, automobile and ...

IRTA is the DES software for NDT, process monitoring and stress analysis. It can be integrated with FLIR thermal cameras SC series. IRTA has a user-friendly interface, providing operators with an optimal use and a rapid image query. ...

software / vibration analysis
DDS
The Digital Diagnostics System 2016 software represents a powerful tool for storage and evaluation of vibration and technical diagnostics data. It allows the user to connect and work with data collected by portable data collectors and ...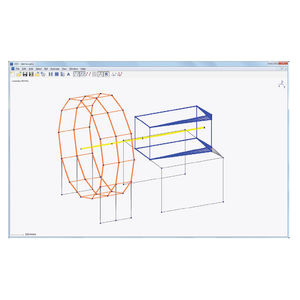 software / vibration analysis
ADS
The Animated Deflection Shapes software is based on the method of operating deflection shapes. This means that we visualize the vibrations of the machine by animation. During the animation the vibration movement is slowed down to very ...

data management software module
GapGun Link is an integrated software package. It enables third party applications to create and download check plans and upload and extract results without the need for operators to use GapGun specific SPC3D software. Manufacturers can ...