{{loadProductsPushed('subcat','736', '','','4', '3')}} {{#pushedProductsPlacement4.length}} {{#each pushedProductsPlacement4}}

{{product.productLabel}}
{{product.model}}
{{#each product.specData:i}} {{name}}: {{value}} {{#i!=(product.specData.length-1)}}
{{/end}} {{/each}}
{{{product.idpText}}}
{{#if company.requestButtonsVisibility.requestButtonQuestion == "ACTIVE"}}
{{elseif company.requestButtonsVisibility.requestButtonWhereToBuy == "ACTIVE"}}
{{/if}}
{{#if product.innovationType}} {{else}} {{#if product.newProduct}} {{/if}} {{/if}} {{#if product.hasVideo}} {{/if}}
{{/each}} {{/pushedProductsPlacement4.length}}
{{loadProductsPushed('subcat','736', '','','5', '3')}} {{#pushedProductsPlacement5.length}} {{#each pushedProductsPlacement5}}

{{product.productLabel}}
{{product.model}}
{{#each product.specData:i}} {{name}}: {{value}} {{#i!=(product.specData.length-1)}}
{{/end}} {{/each}}
{{{product.idpText}}}
{{#if company.requestButtonsVisibility.requestButtonQuestion == "ACTIVE"}}
{{elseif company.requestButtonsVisibility.requestButtonWhereToBuy == "ACTIVE"}}
{{/if}}
{{#if product.innovationType}} {{else}} {{#if product.newProduct}} {{/if}} {{/if}} {{#if product.hasVideo}} {{/if}}
{{/each}} {{/pushedProductsPlacement5.length}}

diode laser
JenLas® D2.fs
The JenLas® D2.fs is a femtosecond laser with optimized performance features for medical applications. Designed for operation at pulse repetition rates as high as 200 kHz combined with perfect beam characteristics, it is capable of generating ...

diode laser system
635 - 685 nm, 30 - 100 mW | CUBE series
Wavelength: 635 nm - 685 nm
Power: 0.03 W - 0.1 W
CUBE lasers are high-performance, full-feature diode laser systems. Each contains laser head, power supply, cable, and control box.The system designed to be one of the easiest to set-up and use. Key features Compact solid-state package, ...
See the other products
COHERENT

CO2 laser
10.4 - 10.8 µm, 225 - 300 W | K-Series
Power: 225 W - 300 W
If you are looking for a laser that is compact and can deliver an output of power 225 to 300W, while providing a power-size ratio that is one of the smallest on the market, you should most definitely consider exploring this item in further ...
See the other products
COHERENT

picosecond laser system
1064.5 nm, 4 - 7 W | RAPID NX
Wavelength: 1065 nm
Power: 4 W - 7 W
The RAPID NX offers <15 ps pulses in a newly designed package that is not only cost effective, but also fit for the most demanding 24/7 industrial applications. The RAPID NX is a next generation picosecond laser system that encompasses ...
See the other products
COHERENT

picosecond laser
355 - 1064 nm, 4 - 16 W | Talisker Ultra
Wavelength: 355 nm - 1064 nm
Power: 4 W - 16 W
A mid-power level industrial picosecond laser for micromachining. The Talisker Ultra is available with three wavelength options in a single product, ideal for industrial process development and production. Coherent's Talisker Ultra ...
See the other products
COHERENT

picosecond laser
max. 10 W, 1064 nm, 1000 kHz | RAPID
Wavelength: 1064 nm
Power: 6 W - 10 W
If you have decided to invest in a high power industrial picosecond laser, this product might be exactly what you are looking for. The first thing you should know is that these products are able to deliver 6W at 1064 and a frequency ...
See the other products
COHERENT

high-speed laser
APL-4000
Wavelength: 532, 355, 1064 µm
Power: 4 W
Introduction Robust and affordable, the APL-4000 laser produces high energy pulses with durations below 8 ps. The laser is based on a hybrid optical amplifier architecture that combines the advantages of fiber laser technology with ...

high-speed laser
10W | APL-X-1064
Wavelength: 1064 µm
Power: 10 W
Introduction The APL-X is a compact and powerful, hybrid fiber/free space amplified ultrafast laser. With pulses shorter than 10ps and energies up to 200 μJ per pulse, this laser is ideal for fast, high precision micromachining and ...

femtosecond laser
Integra-C
The Continuum Integra-C is a Sapphire Ultrafast Amplifiers. This device is usually used for for industrial and laboratory environments. It is equipped with an integrated pump laser and a stetcher or compressor. The Integra-C is featured ...

The Continuum Integra-HE is a Sapphire Ultrafast Amplifier that is equipped with 2 integrated diode-pumped solid state lasers. This device provides the highest energy without the use of special cooling like Cryogenics or Deep TECs. It ...

pulsed laser
1-40 kHz, up to 300W, Nd:YAG | Mesa PIV
The Mesa PIV system features stable and high-power configurations that contains two Mesa HP lasers with external beam fusion. It is constructed with those lasers for applying it that has special power requirements ranging up to 300 W ...

pulsed laser
CE/ 20W/ 1-400 KHZ/ LP series
Wavelength: 1064 nm
Power: 120, 140 W
JPT LP series pulsed fiber lasers make use of master oscillator power amplifier(MOPA) configuration, and show excellent laser performance as well as highlevel of temporal pulse shaping controllability. compared with Q-switch series, ...

solid state laser
266 - 355 nm, 1 - 1000 mW | MPL, AO-W, UV-F series
Wavelength: 266 nm - 355 nm
Power: 0 W - 1 W
Features - All solid state laser - Ultra compact design - Long lifetime - Ease-to-use - Low cost ownership Applications - UV curing - Micro materal processing - CD carving - Medical treatment - Scientific research

solid state laser
1-10μJ / 532nm | MSL-AO-532
Single longitudinal mode pulse green laser at 532nm All solid state single frequency pulsed laser at 532nm is made features of high power, long lifetime and easy operating, which is used in DNA sequencing, flow cytometry, cell sorting, ...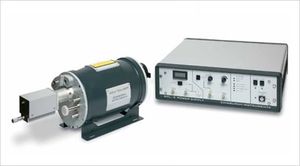 gas laser
9.2 - 10.8 µm | MTL-5
Wavelength: 9.2 µm - 10.8 µm
Pulsed Gas Laser Series The MTL-5 is a compact, user-friendly, bench-top TEA (Transverse Excited Atmospheric Pressure) pulsed CO2 Laser. The MTL-5 features self-diagnostic testing and built-in, fail safe mechanisms designed to monitor ...

CO2 laser
96.5 - 513 µm | FIR Series
Power: 0.01 W - 0.15 W
Optically pumped lasers FIR Series (Far Infrared Lasers / Terahertz lasers) A range of optically pumped, far infrared (FIR) lasers are available for applications that require coherent radiation in the spectral range of 40 microns to ...

triggered laser
1 064nm | SNP series
For generating high peak power IR pulses of a few hundred picoseconds, microchip lasers are economical, compact, and reliable. Sub-nanosecond 1064nm pulses are indeed directly generated from the diode pumped passively Q-switched Nd:YAG ...

triggered laser
1 064 nm | PNP-M series
The PowerChip™ PNP-M 1064nm series provides maximum peak powers and the briefest pulses in kilohertz rates. It has a good quality beam that provides better performance of the machine. The device is incorporated with power supply, air ...

pulsed laser
max. 530 W | TruPulse series
For any processing task, TruPulse lasers offer you the right parameters - tuned precisely to your production. 12 modules to choose from Custom adaptation of supply unit and beam guidance High reproducibility, thanks to high ...

pulsed laser
max. 100 W | TruMicro 5000 series
The lasers of the TruMicro series 5000 are ultra-short pulsed lasers with power of up to 100 watts and pulse energy of up to 500 microjoules. The extremely short pulses, of less than 10 picoseconds vaporize nearly any material so quickly ...

pulsed laser
max. 750 W | TruMicro 7000 series
The short pulsed lasers of the TruMicro Series 7000 offer high productivity in microprocessing, with an average power of up to 750 watts. Depending on wavelength, pulse durations of 30 ns or 300 ns can be used - with good beam quality. ...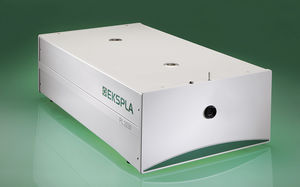 picosecond laser
PL2230 series
Wavelength: 1064, 266, 355, 213, 532 nm
Power: 0.7, 0.5 kVA
The first commercial fully diode pumped high pulse energy mode-locked laser, producing 28 ps pulses with up to 40 mJ pulse energy at a 50 Hz pulse repetition rate. Features Hermetically sealed DPSS master oscillator Diode pumped ...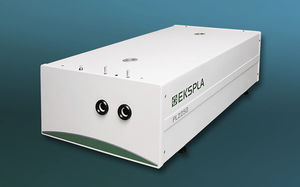 picosecond laser
PL2250 series
Wavelength: 1064, 532, 266, 213, 355 nm
Power: 2.5, 1.5, 0.15, 2 kVA
Featuring up to 100 mJ pulse energy and <30 picosecond (20 ps optional) pulse duration, PL2250 series picosecond mode-locked Nd:YAG lasers set new standard in high pulse energy picosecond lasers. Innovative and cost effective design ...

short-pulse laser
PL3140 series
Wavelength: 1053, 526.5, 351, 263.3 nm
Power: 4, 3, 2.5 kVA
PL3140 series mode-locked picosecond Nd:YLF lasers have excellent output parameters, are reliable and still remain simple and convienent to use. Pulse duration as short as 10 ps is achieved without any sacrifice on beam quality. Features Hermetically ...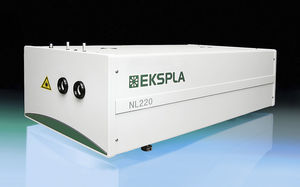 short-pulse laser
NL220 series
Wavelength: 1064, 532, 266, 355 nm
Power: 2, 1 kVA
Diode pumped nanosecond lasers of NL220 series provide up to 30 mJ per pulse at 1 kHz repetition rate. Short pulse duration, TEM00 beam and high energy make these lasers suitable for many applications. Features 30 mJ at 1064 nm 1 ...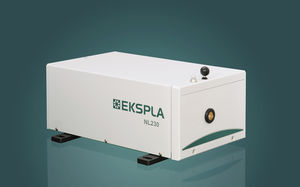 short-pulse laser
NL230 series
Wavelength: 266, 532, 355, 1064 nm
Power: 1 kVA
The NL230 series diode-pumped nanosecond Q-switched lasers produce up to 50 mJ at 100 Hz or up to 150 mJ at 50 Hz pulse repetition rate. Diode pumping allows maintenance-free laser operation for an extended period of time (more than ...

The Automated Dye Laser / Frequency Doubler from LTB Lasertechnik Berlin is optimized for LTB nitrogen lasers as pump. It is designed as compact and rugged which makes it efficient. This device is equipped with automated tuning and can ...

surface treatment laser head
BIMO
Wavelength: 900 nm - 1080 nm
Power: 6 W
High Performance on Best Focus Welcome to the new generation of the BIMO modular processing head, based on the proven laser processing heads BIO and BIMO thar have seen successful deployment in thousand of production scenarios. The ...

femtosecond laser
Spirit® One™
Wavelength: 1030 nm
Power: 3 W
High average power (>3 W) and high pulse energy (30 µJ) Integrated pulse-picker with analog-in modulation User adjustable pulse duration between 400 fs and 2.5 ps (optional) Spirit® One™ is a new industrial femtosecond laser that ...
See the other products
Newport / Spectra-Physics

Wavelength: 1045, 522 nm
Power: 0.65, 1.5 W
Ultra-compact, air cooled High peak power for multiphoton imaging and micro-processing True turn-key operation Proven, dependable performance under 24/7 operation HighQ-2™ is an ultra-compact, air cooled, turn-key, fixed wavelength ...
See the other products
Newport / Spectra-Physics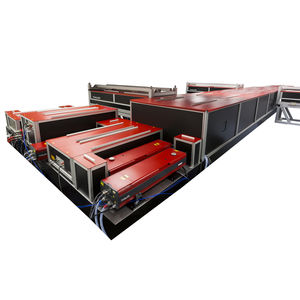 Ti:sapphire laser
ALPHA XS
The particular lengthy custom regarding development and technical discovery of THALES has resulted in over Forty patents related to lasers. Our own distinctive knowledge of nanosecond in addition to femtosecond lasers permits us to grasp ...

Wavelength: 790 nm - 1500 nm
Power: 500 W - 13000 W
Laserline pump sources are specifically designed to meet the demanding needs of consumers when it comes to reliable pump sources with high beam quality and efficiency. Laserline's top of the line pump sources were made possible by the ...
See the other products
Laserline GmbH

surface treatment laser head
Power: 500 W - 6000 W
Separate extremely compact laser head with screwed processing optics and additional mobile service unit (VG), comparable to the LDF series. Supply lines between laser head and power supply unit up to 8 meters in length allows the installation ...
See the other products
Laserline GmbH

Wavelength: 458 nm - 515 nm
Power: 0.03, 0.01, 0.02, 0.02 W
​JDSU air-cooled argon-ion lasers are designed for complex, high-resolution OEM applications such as flow cytometry, DNA sequencing, graphic arts, and semiconductor inspection. Cylindrical Package Symmetric design and axial airflow ...
See the other products
JDSU

high-speed laser
PicoBlade®
Wavelength: 532, 355, 1064 nm
Power: 0.4 W - 50 W
The PicoBlade® laser system is a versatile tool for processing virtually any material with the highest precision and reliability. Many of todays picosecond lasers generate an excessively high fixed pulse energy for applications that ...
See the other products
JDSU

pulsed laser
Vestige™ series
Wavelength: 1064 nm - 1080 nm
Power: 4 W - 50 W
Monode's engineers have developed laser marking integration packages ranging from universal applications to industry-based solutions with plug and play hardware. The Vestige series lasers are designed for easy integration with both ...

continuous wave laser
ECHO series
Wavelength: 1064 nm - 1080 nm
Power: 4 W - 50 W
Features of the Echo marking laser include: Working area from 50 to 230 mm. Power options from 4 W to 50 W. Pulsed and continuous wave with the same laser. Patent-pending modern design with modular options. Options include: Z ...

OEM laser head
PH-xxx-xCW-LC series
PPP: pumping power | MMM: operation mode | CW or QCW | LC: laser crystal included optional. Water cooled mount - No micro-channels are used. Main Features This compact laser pumping head consists of six water-cooled diode laser bars ...
See the other products
Monocrom

diode laser head
LBS-80 series
Diode laser heads for medical and aesthetical applications. Water cooled mount - No micro-channels are used. 40 J/cm2 from 20 ms Main Features Solder-free diode bar mounting technolo gy, exclusive from MONOCROM S.L. The main features ...
See the other products
Monocrom

pulsed laser
max. 500 W | FLS CL series
Power: max 500.0 W
Lasers in the FLS CL-series are flexible devices with high average and peak power for cutting and drilling with high processing speeds. As a result of their high power, they are ideal for batteries and solar panel welding applications. Typical ...