How to choose this product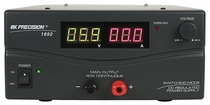 An AC/DC converter changes alternating grid current to regulated direct current. Several stages are required to effectuate this operation.
Applications
These devices can be DIN rail-mounted, rackable or autonomous units. They are protected against overloads. Output may be adjustable, especially in the case of equipment designed for laboratory use.
Technologies
The AC/DC conversion usually involves a transformer to lower voltage, followed by a rectifier circuit changing it to direct current. In linear devices, the output signal is smoothed by voltage regulating semiconductors and a storage unit. Excess voltage is dissipated as heat. Switched mode converters rectify input to high-voltage DC and use a transformer to supply desired voltage. The electronics are more complex, but efficiency is higher.
How to choose
Choice will depend on output voltage, efficiency and power. Ventilation must be considered, especially in the case of a linear converter. Switched mode AC/DC converters generally are more expensive.