How to choose this product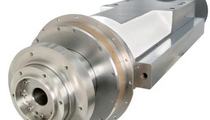 Air bearing spindles are special spindles used on machining centers to perform high-speed cutting, drilling and grinding operations. It is a non-contact spindle, using air as the lubricant between the rotating surfaces.
Applications
Air-bearing spindles are used for high-speed, small diameter machining operations such as drilling for the printed circuit board industry and grinding for semiconductor wafers.
Technologies
These spindles use air bearings to create a non-contact rotary system within the machining center. This means that the rotating spindle will not have any metal-to-metal contact, reducing wear.
How to choose
Be sure to specify the required rotary speed (rpm) and torque (N m) for your machining operation when selecting an air bearing spindle.
Advantages
- Rotational accuracy
- High speed
- Long life