How to choose this product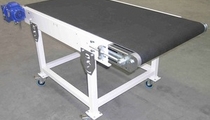 Belt conveyors transport materials on top of a loop of material driven over two or more pulleys. This loop can be made of metal, plastic, rubber or another material. These conveyors are extremely common due to their simplicity, low cost and versatility.
Applications
Versatility makes belt conveyors suitable for a wide range of applications. The most common are the transport of bulk material (ore, grain, coal) and materials handling in factories.
Technologies
One or more drive pulleys move the loop. Unpowered pulleys are known as idlers.
How to choose
The choice of how many pulleys to install, the material of the loop and its length depend on the application.