Chain couplings
How to choose this product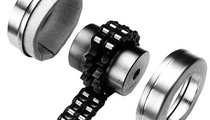 A chain coupling is a flexible, non-twisting coupling consisting of a double-wide chain linking two steel or nylon sprockets. It transmits torque between two imperfectly aligned shafts without twisting or loss of rotational speed.
Applications
Chain couplings are used wherever torque must be transmitted between two imperfectly aligned shafts at constant velocity and without torsion.
Technologies
The chain linking the two sprockets can be of steel or nylon. The former requires lubrication.
How to choose
Choice will depend on:
- Torque and speed to be transmitted
- Shaft misalignment
- Load type: requiring torque fluctuation compensation (flexible elastic coupling) or perfectly synchronized (flexible, no-twist coupling)
- Size, available space, noise, disassembly
- Environment, temperature and other external factors
Advantages
- Low cost
- Simple
- Rapid disassembly
Disadvantages
- Play in chain
13
companies |
15
industrial products
Flexible coupling
Ramsey Products
There are two models of Ramsey silent chain couplings, the Straight Type and the Diagonal Type. Straight Type couplings are composed of coupling halves that are split perpendicular to the shaft axis....
Extend the search
Search by manufacturer
Search by catalog
Associated Terms
chain joints, chain fittings, chain couplers, chain unions, industrial chain couplings