How to choose this product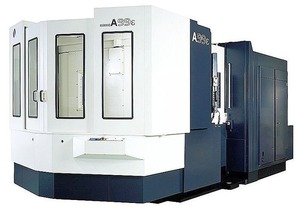 The CNC (computer numerical control) machining center is an automated machine tool capable of milling complex parts. The different types vary in complexity and are classed as either horizontal or vertical, depending on the orientation of the main spindle. These machines evolved from traditional machine tools. They differ in degree of automation, size and number axes.
Applications
CNC machining centers can create a wide variety of objects from many different materials. They are common in the aeronautical, automobile and plastics industries, among others.
Technologies
As with milling machines, machining centers are categorized by the number of axes (three to five or more), which varies with the complexity of the parts to be manufactured. Configuration also varies: movable column, double column, gantry, etc. Spindle and axis drive systems also differ. The newest models use linear motors, faster, more compact and dynamic. Automatic pallet changing and robotization increase productivity.
How to choose
Choice will depend primarily on product type, size and configuration, as well as required precision. Other important factors include productivity, the number of pieces in a production series and, ultimately, the machine's profitability.
Advantages
- Multiple capabilities