How to choose this product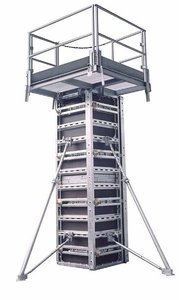 Column formwork is used in the construction of concrete posts and pillars. As with other formwork, it consists of panels, fasteners and shoring elements. A work platform protects workers from falls while handling the concrete.
Technologies
Column formwork is composed of identical square or rectangular panels arranged like the blades of a windmill. By changing the configuration of the panels, posts of different size can be created. Cylindrical columns, on the other hand, use fixed-diameter semicircular panels. Thus, columns of different diameter require different panels. Another system uses cardboard cylinders as formwork. These can be used only once, since they are destroyed during removal.