How to choose this product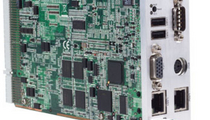 A compactPCI card corresponds to Eurocard 3U or 6U form factors and is designed for a passive backplane connection. It uses PCI bus signal and data exchange protocols.
Applications
These cards are used to process large quantities of data and include processor, data acquisition and networking cards. They are used for process control and data acquisition in the telecommunications and defense realms. Chassis configuration is flexible, allowing the user to assemble the range of cards required.
Technologies
The PCI bus is capable of intensive data transfer at a theoretical maximum rate of 132 Mbps. CompactPCI unites PCI function with the physical advantages of the VME chassis. The motherboard connectors are replaced by shielded backplane connectors with reduced interline capacity.

Up to eight cards per segment are connected to 19-inch racks. Capacity can be further increased by using PCI/PCI bridges. The connectors are metric. The 3U cards have a 110-pin, J1 connector for a 32-bit bus and an optional J2 connector for the addition of I/Os or a shift to a 64-bit system. The 6U cards can be equipped with five backplane connectors. Hot plugging is possible.
How to choose
Choice will depend on card timing, form factor, onboard memory and functional characteristics.