How to choose this product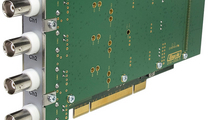 A data acquisition card is a computer component which samples analog or digital signals.
Applications
These devices are found in the realms of industrial control and scientific instrumentation.
Technologies
Such cards include, at minimum, an analog-digital converter (ADC), several analog and digital inputs and outputs, counters, timers, memory and an interface with the computer bus. The signal acquisition sequence configuration determines conversion precision. The input may be in common or differential mode (two channels).

Input voltage range and amplification factor also vary, as does the number of ADC channels (multi-channel, multiplex). The examination frequency can be programmed. Triggers may limit signal acquisition to a specific range of values.

Counters enumerate discrete events (e.g.,coder impulses) or generate a pulse width modulation signal. Data is stored on the card in a FIFO memory and transmitted in blocks. PCI, PCI Express, PC/104, compactPCI/PXI, PMC or VME formats are used for the card, which is supplied with its driver.
How to choose
Choice will depend on the number and type of inputs and outputs, and acquisition speed expressed in samples per second, depending on resolution.