How to choose this product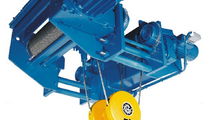 An electric hoist combines an electric winch with block and tackle. The latter multiplies the motor's purchase or lifting force. The load is connected to a chain or cable via a lifting hook.
Applications
These devices can lift and move heavy loads. They are frequently employed for loading and unloading vehicles and shipping containers in ports, and handling steel beams on construction sites.
Technologies
The hoist has a single- or three-phase motor controlled via a push-button box with an emergency stop and, usually, an electromechanical brake. It is protected against overload by a torque limiter and by end-of-travel sensors. Many motors have overheating protection.

The hoist has a cable rolled around a drum or a chain stored in a box or bag. It can be moved manually or on an electric cart, or pulled by a cable along a single or double beam (monorail and dual rail hoists). Some are mounted on a gantry, a bridge crane or a jib crane. Models designed for reduced head loss make the best use of limited headroom. Lifting speed and cart movement speed can be regulated from the control box.
How to choose
Choice will depend on lift capacity, ascent and descent speeds, maximum travel, motor power and electrical supply.