Electric pallet trucks
64 companies | 270 products
How to choose this product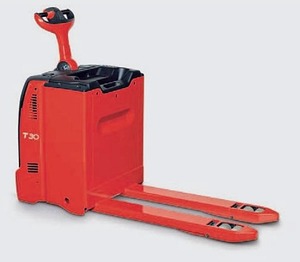 An electric pallet truck is used to lift and transport pallets. Movement and fork operation are facilitated by a heavy-duty battery, making it possible to carry heavy loads. The forks raise the pallets; steering and speed are controlled by a handle at the rear of the truck.
Applications
These vehicles transport pallets in industrial environments. They can handle heavy loads and stacked pallets.
Technologies
A battery powers truck movement and fork operation. The wheels beneath the front of the forks support them as they move up and down. Steering is via the handle, which contains the forward and reverse speed controls. Generally, there is an emergency stop button for immediate braking. Some versions have an operator platform.
How to choose
Choice depends primarily on the load to be transported plus the distance to be covered.
Advantages
- Can transport heavy loads
- Requires less physical effort