How to choose this product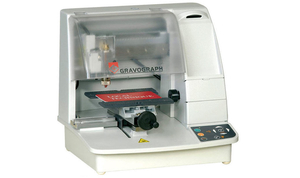 An engraving machine is a manual or automatic apparatus which engraves or marks by removing surface material.

There are several common techniques:
- Mechanical engraving involves percussion or micro-percussion, or the use of cutting tools such as milling devices controlled by a CNC system.
- In chemical engraving, or etching, an acid selectively attacks those parts of the workpiece that have not been masked.
- Electric arc engraving uses an arc between an electrode and the workpiece to make a shallow mark in its surface.
- Laser engraving employs the concentrated energy of a laser beam to vaporize or fracture the material to be removed.
Applications
These devices are used to create decorative motifs in jewelry making and other domains, or to permanently mark objects.