... and versions available which allow the system to cover the special requirements of any single user (battery fuses, strikers, maintenance work fuses). Basically, we have the solution to meet the requirements ...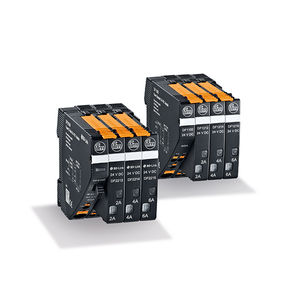 electronic fuse
DFxxxx series
Amperage: 40 A
VDC: 24 V
Electronic fuse Reliable circuit protection with monitoring function for the 24 V secondary circuit Modular and selective protection in plant and machinery Reliable circuit protection allows reduction of wire ...

thermal fuse
3 000 V | ZH 437 K-H
Amperage: 0 A - 100 A
The ZH437 K-H series are tripping devices that integrated with auxiliary switches. The series provides effective thermal cutout protection from overheating machine such as electric air heaters. The air heaters are commonly used in rail ...

thermal fuse
1 500 V | ZH 037 K
Amperage: 0 A - 100 A
The ZH037 K series is a tripping device intended to provide a fail-safe thermal output protection to prevent overheating specifically in electric air heaters used in rail vehicles and other heating systems. The ZH037 K series is an ideal ...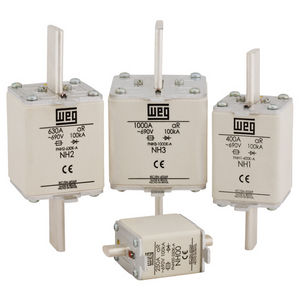 Amperage: 20 A - 1000 A
VAC: 690 V
... High Speed Fuse is a product developed to ensure electronic circuits as well as soft-starter units. Besides VDSs are well-protected from non-uniform current flow to protect electronic circuits such as soft-starter and ...

Amperage: 1.6 A - 8 A
VDC: 24 V
... is made to manage fuses. They serve as switched-mode power units that can handle limited output currents and will work in specific situations. They serve as a power unit where the only other item that could be used are ...

cartridge fuse
max. 36 kV, 6.3 - 360 A | HV HRC
Amperage: min 6.3 A
VAC: min 7200.0 V
HV HRC (high-voltage high-rupturing capacity) fuse-links type 3GD are especially adequate in order to protect devices and switchgear sections, as the standardized fuse characteristics are adapted to ...