The Online Industrial Exhibition

brazed plate heat exchanger
... main applications of our brazed plate heat exchangers are the evaporation and the condensation of the refrigerant gas in the air conditioning and refrigeration plants, the hot water production in heat ...
See the other products
Onda

finned tube heat exchanger
... or copper fin material. Fins are welded to the tube. This is to prevent degradation of the finned tubes ability to transfer heat due to contact resistance as occurs with non-integral forms of attachment such as embedded ...

gas/liquid heat exchanger
Embraco is launching its line of heat exchangers (evaporators and condensers). By offering these new products, Embraco will further strengthen its presence in the commercial refrigeration market. • The ...

... process air is to be separated from combustion air: Increased efficiency Refractory stainless steel body Stainless steel unit Heat input from 40 to 1500 kW Operating temperature 170 °C max.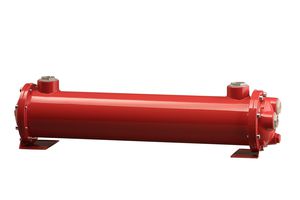 shell and tube heat exchanger
MS series
Operating pressure: 12 bar
Power: 3,000 W - 75,000 W
... the thermal yield. The yield diagrams indicate the heat quantity each exchanger can disperse according to the difference between oil and water mean temperatures. Such diagrams concern the exchangers ...
See the other products
COSTANTE SESINO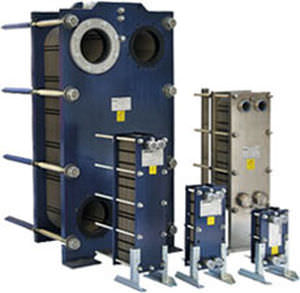 gasketed plate heat exchanger
ITEX
Operating pressure: 30 bar
... & Frame Heat Exchangers are the results of long years of technical and thermal development during which nothing was left at random : The particular chevron geometry offering the best compromise between ...
See the other products
Thermofin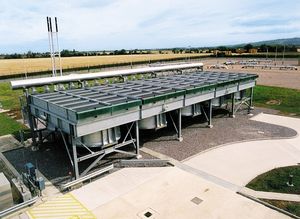 AirFin Heat Exchangers have been designed, manufactured, and supplied worldwide for over 40 years. Our satisfied customers include the process, and power generation industries. The AirFin air-cooled ...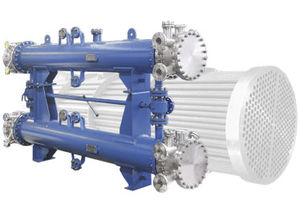 shell and tube heat exchanger
... specialised in the development and manufacture of heat exchangers with up to 2000 m2 heat exchanger surface for all current industrial applications and designs. In ...
See the other products
Funke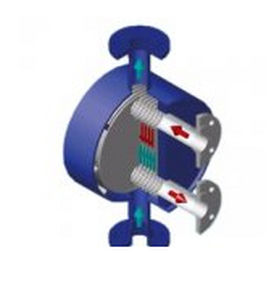 shell and plate heat exchanger
PSHE
... manufactured by Vahterus Oy, and is a shell and plate heat exchanger, that has been specifically developed to operate without requiring any gasket. The model has a compact design, and provides optimum ...
See the other products
Vahterus Oy

heat exchanger with spiral tube
325
Our production is based on the design and the manufacture of finned heat exchanger coils for cooling and heating the air
See the other products
RADIADORES CEREZO

Koolant Koolers heat exchanger packages cool indirectly. Your process fluid is never touched by a chiller. Many acid, water, oil and hydraulic fluids are cooled in this way – with the cool side being ...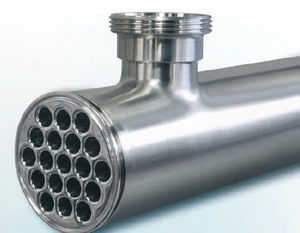 multi-tube heat exchanger
Mixflo series
Operating pressure: 10 bar
Temperature: 184 °C
The multitube mixflo heat exchanger has small diameter tubes that are fitted inside an external jacket. These are welded from one end to the other. The product that needs to be thermally processed will ...
See the other products
MBS s.r.l.

shell and tube heat exchanger
The PICKER heat exchangers range mainly consists of 6 families, each with its own body diameter and a given number of tubes, and there are even multiple optional versions, depending on : > the construction ...
See the other products
PICKER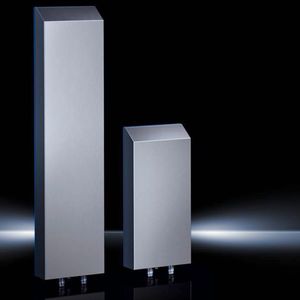 air/water heat exchanger
SK 321x.700 series
Power: 0.6, 1, 0.65, 1.2 kW
Air/water heat exchanger for hygienically sensitive production zones in the food and consumables industry – the optimum addition to the Rittal Hygienic Design range. The cleaning-friendly design reduces ...
See the other products
RITTAL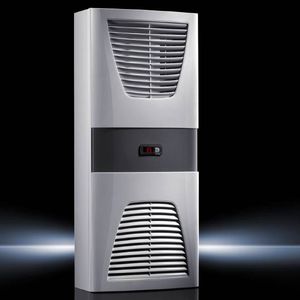 air/air heat exchanger
SK 3126 series
Fully wired wall-mounted heat exchanger unit with controller and digital temperature display.
See the other products
RITTAL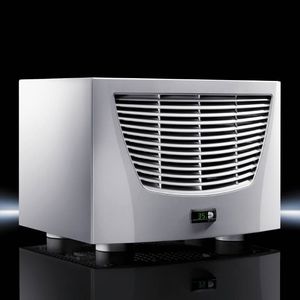 air/water heat exchanger
SK 3209.100 series
Power: 1,875 W - 4,000 W
Output classes 1,875 – 4,000 W. For use in tough environments. Flexible water connection options.
See the other products
RITTAL

Temperature: 70 °C
Power: 5,500 W
... converts 100 % of the drawn electrical energy into heat. Up to 96 % of this energy can be recovered. The fully-enclosed design of modern rotary screw compressors makes them especially suitable for heat ...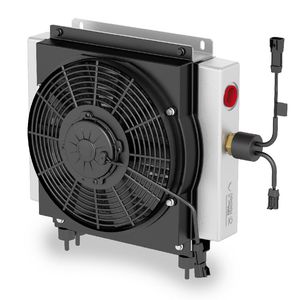 finned tube heat exchanger
A series
Power: 0.8 kW - 100 kW
Aluminium heat exchangers are used for cooling fluids in the hydraulic systems of all mobile equipment and agricultural machinery, and in fixed industrial plant and machinery. Wide range of highly industrialized ...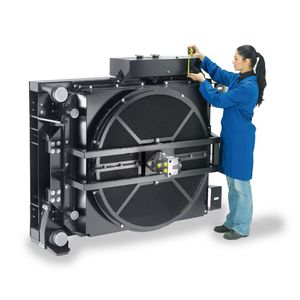 Bondioli & Pavesi specializes in the designing and manufacturing of high - efficiency heatexchangers, large-sized as well, for several application sectors such as: - Building and earth moving - Agricultural machinery - ...

industrial heat exchanger unit
... accommodate the heat exchange medium (oil, water, air, etc.). AViTEQ heat exchangers are employed in practically every industry (chemical, food, plastics, pharmaceutical, recycling and ...

finned tube heat exchanger
EER series
Temperature: 180 °C
The "ECONOMIZER" heat exchanger patented by CORAL ena- bles recovery of the heat dispersed into the atmosphere from combustion fumes of industrial heaters or from other hot fluids, sending ...

Heat exchangers – used to cool, heat or reheat fluids, gases and air – are an area that Superior Tube specializes in. We offer a range of products specifically meeting the ...

shell and tube heat exchanger
Ideal for cooling must. They consist of a cylinder containing a set of corrugated tubes. Made of AISI 304 or AISI 316 stainless steel. The removable ends make it easy to inspect and clean the inside. The outer insulation is made of polyurethane ...

scraped surface heat exchanger
SR
These scraped surface heat exchangers for indirect cooling rely on a glycol solution and are suitable for stabilizing wines. The evaporators are of the horizontal scraped surface type and are effectively ...

These exchanger models offer an excellent thermal efficiency and are suitable for cooling musts, crushed grapes, and fruit pulps with solids in suspension. All the piping, inside and out, is made entirely of AISI 304 ...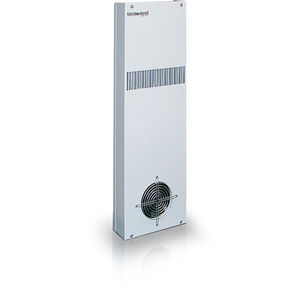 finned tube heat exchanger
TE series
Power: 35, 70 W
TE series air-air exchangers The air-air heat exchangers, exploiting the principle of heat conductivity of a finned aluminium assembly, is design to remove heat ...

PFA heat exchanger
HPX1 Series
Temperature: 0 °C - 260 °C
The HPX1 Series PFA Submersible Heat Exchanger enables precise temperature control of process chemicals and water in semiconductor and pharmaceutical applications. It can be mounted inside of the tank, ...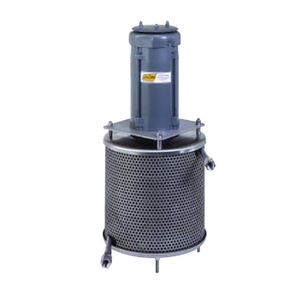 finned tube heat exchanger
ABC
Operating pressure: 2,000 psi
Temperature: 500 °F
Air-cooled heat exchangers from JOHN CRANE are used when there is no water, or when the heat removal needed would require an air-cooled heat exchanger. ...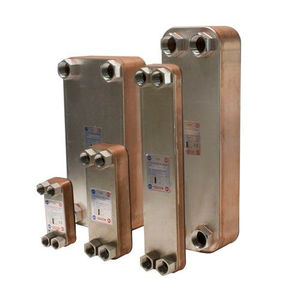 brazed plate heat exchanger
Operating pressure: 30 bar
Temperature: 200 °C
The Brazed Plate Heat Exchanger is manufactured by Hydac. It is suitable for the applications on cooling circuits with water, coolant or oil. It sports a compact design, minimal fuelling capabilities, ...
See the other products
HYDAC

tubular heat exchanger
EnRec 3
EnRec 3 Air to Air heat exchanger Modular design, adapted to the exhaust air volume.
See the other products
AUTEFA SOLUTIONS