How to choose this product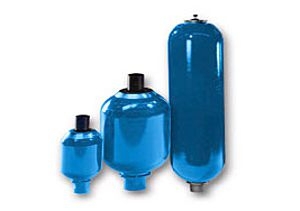 Since liquids are not easily compressible, they cannot be used to accumulate energy directly. Hydraulic accumulators make it possible to store liquids under pressure.
Applications
Applications are numerous; accumulators are present in every type of industrial facility.
Technologies
The operating principle is based upon Boyle's law (pressure times volume = a constant) and on the compressibility difference between liquids and gases.

The accumulator's bladder is filled with nitrogen and closed off by a filling valve. The bladder then fills the accumulator's interior. Introduction of a pressurized liquid compresses the nitrogen. As gas volume decreases, pressure increases and the pressurized liquid accumulates.

In the opposite case, the accumulator empties if the pressure on the liquid side drops below that of the bladder.
How to choose
The volume and operating pressure of the accumulator should suit the task it is meant to perform.
Advantages
- Energy transmitted by a stored liquid
- Process is reversible
- Maintains required pressure