How to choose this product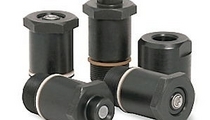 A hydraulic coupling is used to connect or disconnect elements of high- and very high-pressure hydraulic systems.
Applications
These devices are common in public works, the automobile, aeronautical and construction industries and numerous other domains.
Technologies
Such fittings are usually categorized by connection system between the male and female parts of the coupling or between the coupling and a pipe. They can be quick couplings, rotating or push-in couplings.
How to choose
Choice of hydraulic coupling will depend on:
- the nature, temperature and pressure of the fluid in the system
- the number and diameter of piping circuits, and the flow rate.
Advantages
- Assures hydraulic connections
- Reliable