How to choose this product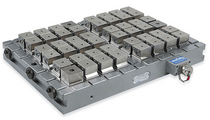 Magnetic chucks hold ferromagnetic workpieces in place for various machining operations. They use a permanent magnet in contact with the flat mounting plates of the chuck.
Applications
These devices are widely used in the metal working industry. They can hold workpieces for drilling, milling, grinding and sinker and wire electrical discharge machining (EDM).
Technologies
The magnetic chuck has a permanent magnet, an electromagnet or a combined electro-permanent magnet. The chuck can be switched on and off easily via a handle.
How to choose
Be sure to specify the size of the workpiece when selecting a magnetic chuck. Other specifications to consider are the chuck's overall dimensions and adaptability to existing machinery.
Advantages
- Rapid work positioning
- Mounting large pieces
- No distortion