How to choose this product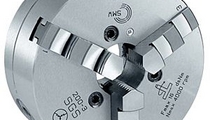 Manual chucks are mounted on a lathe spindle to hold workpieces for turning operations. It is actuated by a T-handle wrench inserted into the outside of the chuck body.
Applications
Manual chucks are found on all types of lathes. They also are used on rotary tables for measuring purposes or to hold metal pieces in place for welding.
Technologies
There are three different types of manual chuck:
- The scroll type is self-centering, using an internal scroll to move the jaws in and out.
- The independent type is usually has four independently adjustable jaws for holding irregularly shaped workpieces.
- The combination chuck combines the features of scroll independent types, giving the user more options for mounting workpieces.
How to choose
The nature of the lathe spindle mount must be considered when selecting a manual chuck. It is also necessary to choose between closed-center and through-hole models.