{{loadProductsPushed('kwref','78504', '','','4', '3')}} {{#pushedProductsPlacement4.length}} {{#each pushedProductsPlacement4}}

{{product.productLabel}}
{{product.model}}
{{#each product.specData:i}} {{name}}: {{value}} {{#i!=(product.specData.length-1)}}
{{/end}} {{/each}}
{{{product.idpText}}}
{{#if company.requestButtonsVisibility.requestButtonQuestion == "ACTIVE"}}
{{elseif company.requestButtonsVisibility.requestButtonWhereToBuy == "ACTIVE"}}
{{/if}}
{{#if product.innovationType}} {{else}} {{#if product.newProduct}} {{/if}} {{/if}} {{#if product.hasVideo}} {{/if}}
{{/each}} {{/pushedProductsPlacement4.length}}
{{loadProductsPushed('kwref','78504', '','','5', '3')}} {{#pushedProductsPlacement5.length}} {{#each pushedProductsPlacement5}}

{{product.productLabel}}
{{product.model}}
{{#each product.specData:i}} {{name}}: {{value}} {{#i!=(product.specData.length-1)}}
{{/end}} {{/each}}
{{{product.idpText}}}
{{#if company.requestButtonsVisibility.requestButtonQuestion == "ACTIVE"}}
{{elseif company.requestButtonsVisibility.requestButtonWhereToBuy == "ACTIVE"}}
{{/if}}
{{#if product.innovationType}} {{else}} {{#if product.newProduct}} {{/if}} {{/if}} {{#if product.hasVideo}} {{/if}}
{{/each}} {{/pushedProductsPlacement5.length}}

power measuring device
SINEAX CAM mobile
... demand - Collecting total active and reactive energy demand in all four quadrants For the parameterization of the device before measurement and the subsequent analysis of the recorded data PC knowledge ...

resistance measuring device
GEOHM 5
This instrument can also be used to ascertain or measure soil resistivity and ohmic resistance in accordance with the current-voltage measuring method. - Measurement ...

power measuring device
MAVOWATT 4
... direct measurement of DC power, as well as RMS power measurement for single-phase alternating current and balanced load three-wire, three-phase current. Determination of reactive power Measurement ...

optical measuring device
VR-3000

size measuring device
20 µm - 30 mm | CAMSIZER P4
The CAMSIZER uses a unique two-camera system to provide an accurate and speedy measurement of pourable solids in the range from 20 µm to 30 mm and is capable of parallel evaluation of particle size distribution, particle ...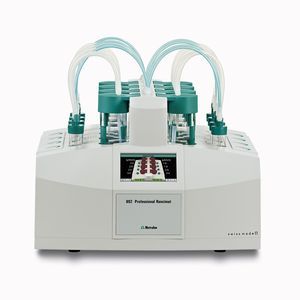 automatic measuring device
892 Rancimat
... to link up to 4 instruments to a single PC. This unit allows the independent start of each measuring position and provides a full status overview for all measuring positions. The 892 is equipped with ...

automatic measuring device
PetroOxy (RSSOT)
The PetroOxy (RSSOT) by Anton Paar is an Automatic oxidation stability measuring device which provides a complete oxidation stability analysis of petroleum products. For this specific model, it features ...

alcohol content measuring device
Alcolyzer ME
... and same ease of use as the established Alcolyzer ME models, with one extra benefit: now you can use one alcohol meter to measure all your beverages, including: beers, ales, beer mixtures, alcopops, ciders, molasses, ...

optical measuring device
360° SIMS
Hexagon Metrology 360° SIMS offers a wide array of solutions for fully automated dimensional process and quality control which can result to significant reduction in logistic efforts and process delays. For instance, it now provides ...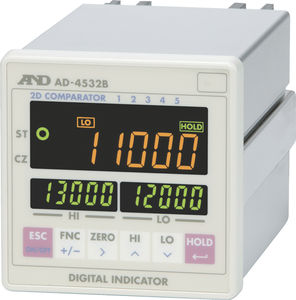 force measuring device
±0.25 mV/V ... ±3 mV/V | AD-4532B
Super high-speed sampling at 2000 times/second. Digital hold and peak hold functions. Ideal for measuring the dynamic phenomena of loads, pressure, torque, tension, etc. The AD-4532B is equipped with a 2D (5-level) ...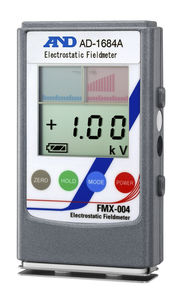 electrostatic field measuring device
max. ±30 kV | AD-1684A
... existence of static electricity, which is often the cause of inaccurate weighing. The AD-1684A can be used for measuring the electrostatic charge of measured objects or on automated factory lines, and ...

belt-tension measuring device
TRUMMY2
... cable free measurement probe and a microprocessor that shows pertinent measurables for belt tension as a frequency (in Hz) or force (in N). It also has an easy and reliable user menu that is available ...

power measuring device
96 x 96 mm | SIMEAS P50
... output, relay). The SIMEAS P50/P550 can be used for attainment, display and further processing of external signals with a measurement range of 0-20m ADC. Output modules can be used for the conversion of any electrical ...

power measuring device
SICAM P855
... detailed event and fault records and also enables evaluation so as report according to power quality standards directly from the device. The P855 can hence be put to use for acquisition, visualization and transmission ...

electrostatic field measuring device
IZH10
... this device to test for existing electrostatic conditions. This portable device uses to two standard AA batteries. It features a sensor and separate compact display unit which can be used even in ...

optical measuring device
435 g | MaxSHOT 3D
The MaxSHOT 3D optical coordinate measuring system is a bonus in terms of adding accuracy and speed of photogrammetry into variety of applications with the help of Creaform technologies. Creaform is has a reputation ...

optical measuring device
max. 3000 reflectors/s | C-Track series
... being a complete portable 3D instrument solution too. The item is suitable for various applications, such as those that require probing inspection, as well as dynamic measurement capabilities. The manufacturer ...

dew-point measuring device
10 - 100 % RH | EE46
... for systems near dewpoint. For dewpoint, the device measures on relative humidity, thanks to the temperature coupling between the condensation monitor and the environment. This relative humidity is measured ...

speed measuring device
0 - 100 % RH, -40 °C ... +400 °C | OMNIPORT 30
... manufactured for accurate measurement of various physical quantities, such as, humidity, temperature, dew point, air velocity, volumetric flow and air pressure. This user-friendly device has internal ...

pressure measuring device
DMG
... provide accurate measurements in a range going from -130 mbar to 130 mbar as well as -1000 mbar to 1000 mbar. It is intended for use with mediums such as gas or air and finds it's place in a number of applications dealing ...

vacuum measuring device
0560 5520 testo 552
The TESTO 552 digital vacuum measuring instrument offers very precise information and provides measurement for even the smallest pressures. It is mainly used for the evacuation of refrigeration ...
See the other products
TESTO

ambient air quality measuring device
max. 10 000 ppm, max. 2 000 inH2O | 435-3
The Testo 435-3, Multi-function Instrument for A/C, ventilation and Indoor Air Quality with Protection class IP54 rating, is the best solution for professional ambient air measurement. It has a built-in ...
See the other products
TESTO

relative humidity measuring device
0 - 100 %rH, -10 °C ... +50 °C | 610
One of the family member of Testo measuring device is the Testo 610 which is widely known for its relative measurement of air moisture and temperature synchronously. This device ...
See the other products
TESTO

flow measuring device
max. 2 000 hPa | 512 series
The TESTO 512 is an excellent measuring system, perfect for substituting multiple devices needed for a technician's work. The TopSafe design protects the device from damage, dirt or ...
See the other products
TESTO

humidity measuring device
max. 10 000 ppm, -328 °F ... +2 498 °F | 435-1
Measuring devices become innovative and sophisticated with Testo 435-1. This device finds application in ambient air conditions, the assessment of Indoor Air Quality; and inspection ...
See the other products
TESTO

temperature regulator measuring device
RS232, USB | HH314A
The HH314A handheld meter with datalogging capability features a triple display showing temperature and humidity from a handheld probe reading. Data from a separate K type thermocouple can also be displayed. Software and interface cables ...

speed measuring device
-20 °C ... +100 °C, 5 - 95 %rH | HHF144 series
... humidity users can measure with this device is between 5 and 95% RH. In addition, users can also use the item for measuring the airflow in environments with temperatures between -20 ...

dew-point measuring device
-60 °C ... +50 °C | RHB-CAC1S series
The easy-to-install self-monitoring device is NIST traceable. At +/- 0.2 deg C, it comes with wide range of -60 to 50°C (-76 to 122°F). The virtually maintenance-free device offers user-programmable ...

dissolved oxygen measuring device
max. 60 mgO2/l | DOB21
The DOB21 is a Benchtop Dissolved Oxygen Meter for automotive applications. The meter features automatic parameters calibration, temperature compensation, scale change in auto-range, and a salinity and barometric pressure compensation. ...

conductivity measuring device
M700
The M700 is a versatile measuring system for continuous measurements of different variables, depending on the installed measuring modules, in the liquid analysis field. The M700X can ...

DO measuring device
InTap4000e / InTap4004e
... that guarantees efficient procurement in addition to storage of measurement data. These exceptional DO Measurement Systems are powered through battery and consists of an instrument ...

temperature measuring device
10 - 95 % RH, - 4 ... 140 °F | TH 1800
Measure temperature and humidity electronically with this humidity-temperature meter. It measures 10-95% relative humidity and temperatures of -4 to 140°F or -20 to 60°C. It features dew point and wet ...

... also designed to measure fiber optic cable attenuation when using a stable light source. The meter is able to measure two wavelengths and display the results in dBm or iW with the use of microprocessor ...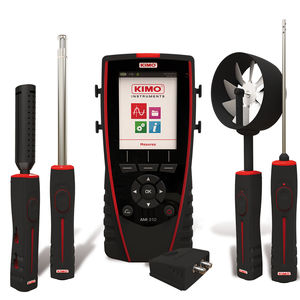 speed measuring device
-200 - 1760 °C, 0.15 - 35 m/s, 0-500 ppm, 3-98 %HR | AMI 310
Multi-parameters portable device : Pressure, air velocity, airflow, hygrometry, temperature, air quality, tachometry. Memory : up to 12 000 measurement points Dataloger software for data recording and ...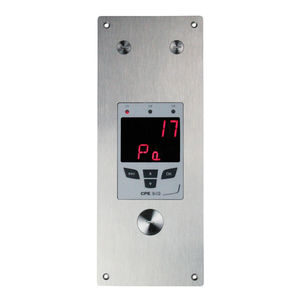 flow measuring device
CPE 310-S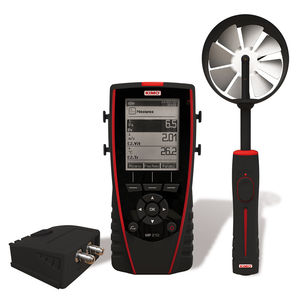 flow measuring device
max. ±10 000 Pa, max. ±2 000 mbar, max. 100 m/s | MP 210
... available for this particular model, including velocity, pressure, airflow and air quality. There are no less than 8,000 measuring points available, and the item also comes with the optional DATALOGGER software, which ...

optical measuring device
AQ6150 Series
The AQ6150 Series Optical Wavelength Meter is an ideal instrument for accurately measuring the optical wavelength of optical devices and systems used in telecommunication applications ...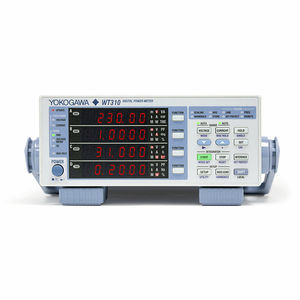 power measuring device
WT300 Series
The WT300 Series Digital Power Meters provide ideal equipment for a range of measurements such as stand-by-power and battery charger measurements, Energy Star®, and IEC62301 testing. These models belong ...

multifunction measuring device
WT3000
... testing and other power conversion devices. It has a basic power accuracy of ±0.02% reading, DC and 0.1 Hz-1 MHz measurement bandwidths and up to four input elements. The WT3000 provides higher-accuracy ...

power measuring device
PR300
... complete with multimeter functionality and a plethora of measurement parameters. Power monitoring is made all the more efficient thanks to the Demand Alarm and Network Access. Furthermore, the PR300 device ...

temperature measuring device
SC450G
... due to the combination of advanced temperature compensation functionality and conductivity measurement, along with preloaded calibration standards. This smart device also comes with ultra pure water ...
How to choose this product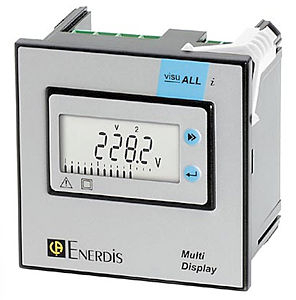 In a broad sense, measuring devices quantify physical parameters. The measured quantity's numerical value is a number that establishes a relationship between said quantity and a given measuring unit.
Applications
These devices are used in all areas of industry and science for a wide range of experimental, project or test measurements. The Instrument can be bench or portable, with direct or remote readout. Main applications include measuring and analyzing temperature, pressure, flow and material characteristics.
How to choose
Choice of device will depend on the measurement type and scale, standard and extreme values and the measuring environment.