The Online Industrial Exhibition

water analyzer
Sievers M9 series
... TOC) Analyzers offer you time-tested dependability with faster-than-ever analysis to help you reach the peak of productivity. It has unequaled level of efficiency and flexibility which provides the readings in just about ...
See the other products
GE Analytical Instruments

water analyzer
Sievers M5310 C series
GE Power & Water developed the Sievers 5310 C Laboratory TOC Analyzer, a crucial member of the entire Sievers 900 Series, from the ground up specifically for drinking water applications. Whether it is ...
See the other products
GE Analytical Instruments

water analyzer
SG23 SevenGo Duo™
SevenGo Duo™ integrates a user-friendly, reliable and quality enhancer measurement tool. This meter is designed to trigger a single keystroke for measruements and also allowing access to stored outcomes or system for settings. The kit ...
See the other products
Mettler Toledo Analytical Instruments

food analyzer
SG98 – SevenGo Duo pro™
Professional Dual-Channel Meter With ISM® SevenGo Duo pro™ combines maximum measurement accuracy and an excellent range of functions with user-friendly operation and exceptional safety. SevenGo Duo pro™ meters are essential for special ...
See the other products
Mettler Toledo Analytical Instruments

iron analyzer
TruScan™ RM
A lightweight, handheld device used for fast raw material identification is the Thermo Scientific TruScan analyzer. This is specifically outlined to meet the demanding standards of several sectors like ...

toxic gas analyzer
RAID-AFM
Automated facility monitor designed for continuous nuclear and chemical detection The RAID-AFM (NC Version) meets the challenging National Security requirements for the protection of Critical Infrastructure. Designed to be used in a ...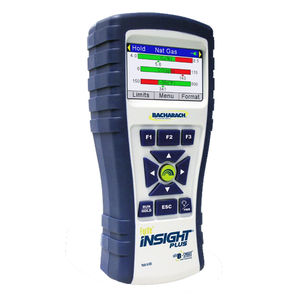 stack gas analyzer
0 - 4 000 ppm | Fyrite® INSIGHT® Plus
The Fyrite® INSIGHT® Plus combustion analyzer represents a next-generation 5 in 1 analyzer, that combines the combustion and efficiency analyzer (up to 9 fuels), a room air CO test instrument, ...
See the other products
Bacharach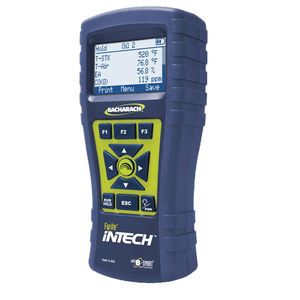 oxygen analyzer
0 - 2 000 ppm | Fyrite® InTech™
The Fyrite® InTech™ residential analyzer is a robust, lightweight, reliable, and long-lasting functional handheld unit that provides technicians with the most convenient and cost-friendly means to achieve ...
See the other products
Bacharach

The CA-2500 2D Colour Analyzer from Konika Minolta is used for two-dimensional, high resolution measurement for chromaticity and luminance distribution of backlights, FPDs, projectors and others. Experience efficiency ...

electrical network analyzer
Fluke 438-II
... The Fluke 438-II Power Quality and Motor Analyzer adds key mechanical measurement capabilities for electric motors to the advanced power quality analysis functions of the Fluke 430 Series II Power Quality Analyzers. ...
See the other products
FLUKE

water analyzer
Fluke 434 Series II
The Fluke 434 II Energy Analyzer is the ideal tool for energy logging. Utilizing the new Energy Loss Calculator function, the 434 II measures the fiscal cost of energy wasted due to poor power quality. This energy monetization ...
See the other products
FLUKE

Assertively equivalent color to virtually any plane – Immediately! Confine color motivation from any plane, fabric or material – even tiny, decorative, colorful surfaces and materials, and contest it rapidly and precisely to a PANTONE ...

sulfur analyzer
MSI Variox-2
... analysis devices designed for measuring various gas concentrations such as O2, CO2, CO, NO, NO2 and SO2. The MSI VARIOx- gas analyzers measures by gas samples with the use of an electrochemical sensor. This guarantees ...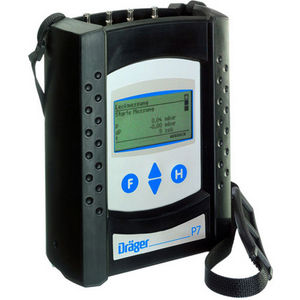 This device can measure differential pressures and temperatures in many concentrations. The EM200 flue gas analyzer will allow for specific measurements as needed. Tested with EN 50379-1 and 2 standards in mind, it will ...

air analyzer
MMS 35 series
35 IS (MMS 35 IS) belongs to the Moisture Monitor Series and is a portable hygrometer that is powered by a battery, enclosed in a damaged-resistant housing and is deemed intrinsically safe. When bought together with the ...

gas analyzer
DewPro MMY245
GE's DewPro MMY245 is a portable moisture analyzing instrument capable of multiple tasks; it is, however, mainly capable of inspecting gas dryer overall operating performance, checking for any breathing air, compressed ...

iron analyzer
N934x series
FieldFox and HSA Handheld Spectrum Analyzers make the job easier when making measurements in the fields. It has all the features and functionalities that are required for operation in rugged field environments. ...
See the other products
KEYSIGHT TECHNOLOGIES

vector network analyzer
N99xxA series
... These handheld analyzers by Agilent can be relied upon and are designed to survive the most demanding work environments. So make these FieldFox analyzers part of your workforce and ...
See the other products
KEYSIGHT TECHNOLOGIES

food analyzer
1 600 - 2 400 nm | microPHAZIR™ AG
The Thermo Scientific™ microPHAZIR AG analyzer is designed for fast and accurate analysis of animal feed and ingredients. This highly accurate portable solution features an ergonomic design with a simple ...
See the other products
Thermo Scientific - Environmental and Process

air analyzer
microPHAZIR™ AS
... microPHAZIR™ AS Asbestos Analyzer is a hand operated near-infrared material examiner specifically engineered to quickly screen and identify materials that may have traces of asbestos. Weighing 2.75 pounds, ...
See the other products
Thermo Scientific - Environmental and Process

The Kelman TRANSPORT X is a compact portable Dissolved Gas Analysis (DGA) system which is used to analyze oil samples for all dissolved fault gases by a laboratory and moisture which is recognized as the most important ...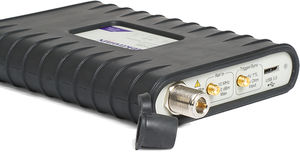 electrical network analyzer
RSA306
... analysis capability and 9 kHz to 6.2 GHz frequency coverage Portable – USB Spectrum Analyzer ready to connect to a PC with USB 3.0 Customizable – Configure RSA306 + SignalVu-PC for Internet ...
See the other products
Tektronix

iron analyzer
H500, SA2500
... quickly find troublesome signal emitters in the increasingly crowded radio spectrum environment with Tektronix' SA2500 handheld spectrum analyzer with DPX™ technology.
See the other products
Tektronix

The FID3006 analyzer only requires at most 15 minutes warm up time to be ready. It features automated switch-off of fuel gas and pump in case of flame failure and it is approved for continuous emission checking. It also ...

alloy analyzer
S1 TITAN 200
Bruker's new S1 TITAN handheld XRF analyzer is among the lightest, tipping the scales at a mere 1.5 kg including the battery, and is hence the lightest tube based handheld XRF analyzer ...
See the other products
Bruker Handheld XRF Spectrometry

solids analyzer
TRACER III-V/III-SD
The Tracer family of analyzers represents a hand-held device equipped with all the benefits of a bench-top instrument, such as flexibility and power. It uses the most advanced vacuum technology that was developed in partnership ...
See the other products
Bruker Handheld XRF Spectrometry

electrical network analyzer
OptiView® XG
OptiView XG is a network engineers tablet with dedicated custom hardware for automated network and application analysis in the deployment and troubleshooting of new technologies. It is available in the data center with support for 10 ...
See the other products
Fluke Networks

communication network analyzer
AirCheck®
The AirCheck Wi-Fi tester allows network technicians to quickly verify and troubleshoot 802.11 a/b/g/n networks. It is designed for dispatched troubleshooting and simplifies wireless testing by offering a one-button AutoTest, which quickly ...
See the other products
Fluke Networks

water analyzer
Oakton® SaltTester 10
... dropped in water Direct full-scale readout Ideal for spot checking NaCl-based samples. Display reads direct concentration—no manual corrections are necessary. Push button calibration provides easy and precise field ...
See the other products
OAKTON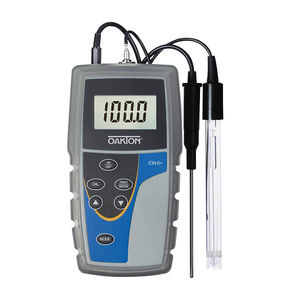 ion concentration analyzer
Ion 6+
Direct readout of ion concentration at economical prices Works with almost all ion selective electrodes with BNC connectors Reads ion concentration (ppm) pH, mV, and temperature Preprogrammed ion calibration points let even beginners ...
See the other products
OAKTON

oxygen analyzer
OXY SMART
OXY SMART OXYGEN ANALYSER incl. accessories and box Battery powered device For inert gases For mixed gases with hydrogen (max. 10%) Measuring cell made of zirconium oxide (maintenance free), long lifetime through intelligent software Robust ...

PURGE PRESSURE ANALYSER PPA 2500 The PPA 2500 purge pressure analyser is used for setting an monitoring the ID purge pressure. It replaces the analogue Magnahelic devices traditionally used for applying the ID pressure balancing technique ...

Important values securely under control The TOPAX DX is based on the longstanding experience of many generations of TOPAX controllers from Lutz-Jesco. Its modular design makes it an adaptable and a highly compatible partner in measuring ...