How to choose this product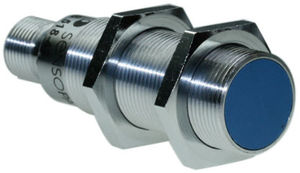 A proximity sensor detects the presence of an object or a person within its operating range.
Applications
These devices are used in robotics, on assembly lines and conveyors. They are found in machine tools and in processing and transforming industries. Photoelectric sensors are particularly common for detecting human presence in elevators and buildings, and vehicles at parking lot access points.
Technologies
Proximity sensors may be capacitive, inductive or photoelectric; they do not require contact with the target. The first two types are short range. Inductive sensors react to a change in the magnetic field they generate, indicating the presence of a metal object. Capacitive types use an electrical field to detect any type of object.

Photoelectric sensors use a beam of light, usually infrared, between an emitter and a receiver. Activation occurs if the beam is broken by an intrusive person or object. Passive infrared detectors react to the presence of a person or object in the area under surveillance. Hall-effect sensors detect magnetic field variations and are sensitive to the presence of metal objects. Other models use ultrasound.
How to choose
Choice will depend on the type of target to be detected and whether the output is two- or three-wire.
Advantages
- No wear
- No moving parts
- Waterproof