robotic depalletizing cell
Empticon®
... containers and trailers as well as high cube containers, and the machine can with advantage form part of the following: Robot palletizing Sorter systems Miniload storage or other fully automated storage equipment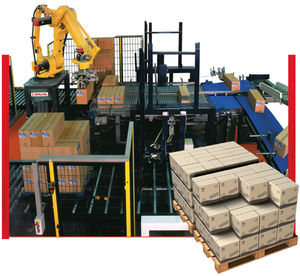 robotic palletizing cell
STP-1150
The Palletizing Cells STP-1250 is available in 3 models according to load requirements 100, 250 and 400 kg. There is a version designed for ice cream production lines or frozen food (-30 ° C). This machine has a Pallet ...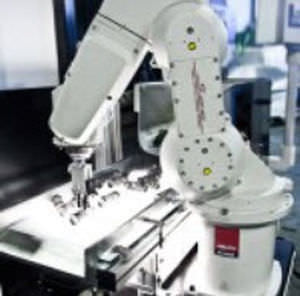 robotic loading cell
BRB 700
Kamatech's BRB 700 Systems are part of the company's product line of robotic island devices. These systems feature primary robotic arms that are guided by camera deals with the disc's loading stage. They ...

... equipment on the bench for a zero time equipment change owing to the CNC bench. - Manual or automatic load also from line or robot. - Electric and pneumatic integrated circuit within the structure for easy handling. Applications - ...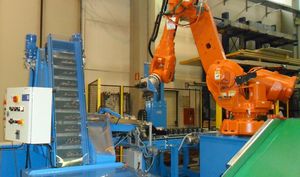 This lineup of robot inclined automated systems for installation are engineered and manufactured by CIA for production lines that have a rather low production rate, but where constant installation and superior versatility ...
See the other products
C.I.A. Automations and Robotics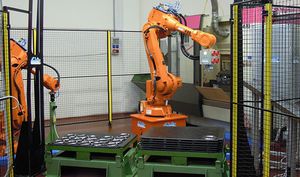 ... of components requiring processing, there are robot-based automated solutions available with the following variations: a robot manipulating the part with the tools being kept stationary, and with a robot ...
See the other products
C.I.A. Automations and Robotics

robotic dosing cell
DC-RS 250
The slimline DC-RS 250 robot dispensing cell with the KUKA KR6 R900 is small and versatile. It is used to process 2-component materials. 600 mm wide with a max. part width of 350 mm Ideal for lean manufacturing ...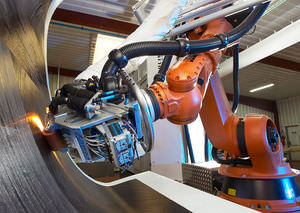 ... worldwide maintenance. > The robot head has been developed and intensively optimised by Coriolis Composites during a ten year research program. It weighs less than 50 kg due to the maximal payload of robots. ...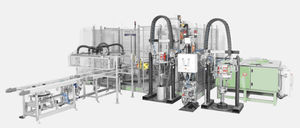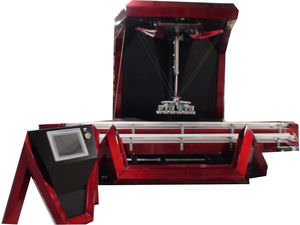 ... help the customized robotics get maximum productivity. Quality equipment with capabilities in numerous applications, enable Edson to meet your needs. For more than 15 years, EDSON has been integrating and building customized ...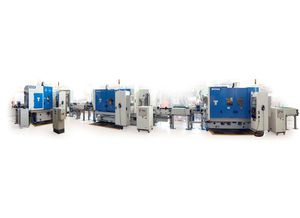 Automatic grinding cells introduces the highest level of productivity and reliability in various component. It is embedded with a robotized system that is designed to develop the manufacturing processes. ...

The robot-operated bending cells is a highly automated system where the robot picks up the sheet to be worked from a loading area, accompanies it throughout the bending process, and deposits ...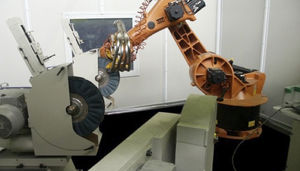 robotic polishing cell
IR

robotic loading cell
RED series
... blocks in carrier pallets along with layers of caskets in the oneological market. These robots are engineered for all kinds of applications which need a robotic solution rather than the traditional ...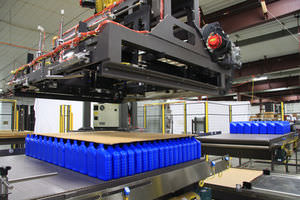 robotic depalletizing cell
max. 5 p/min, max. 500 lb | MasterPal
The MasterPal uses a technology system, with a patent to cater complete layers of product in a maximum weight of 500 lbs. It is suitable for palletizing or depalletizing of virtually all load types in a maximum of 5 layers per minute. ...

Hammond Roto-Finish has been integrating robotic systems since 1988. Our Robotic Finishing Cells serve a variety of industries ranging from aerospace to medical to automotive and everything ...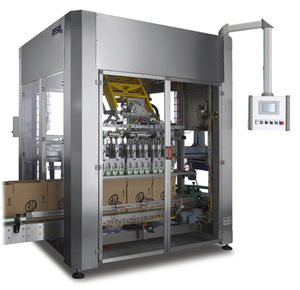 robotic packaging cell
RCP series
The RCP packaging robot is at the top of its category for reliability, flexibility and efficiency. The system is based on a strong Pick & Place arm driven by brushless motors with the most advanced motion control technology ...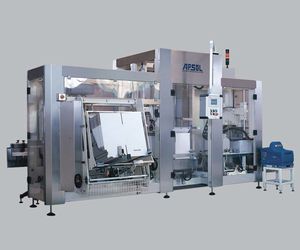 robotic packaging cell
RCFP series
The RCFP monoblock combines the performance of an RCP Pick & Place robot with a compact case erector available with tape or hot-melt glue bottom sealing. The typical applications of the RCFP Pick & Place monoblock are ...

... finishing of different pieces, even totally automated small batches with several hours of unatended operation. The modular cell includes robot, belt-grinding units, polishing units and parts magazine.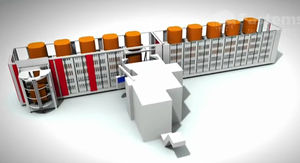 robotic palletizing cell
750 - 7 500 kg | FPC series
Fastems' smallest FMS, the Flexible pallet container (FPC), is an alternative to pallet pools and provides machine tool suppliers with a complete FMS installed in a 'container'. Each FPC contains all the equipment required for an automated ...
See the other products
FASTEMS


robotic palletizing cell
750 - 1 700 kg | FPM series
The Fastems Flexible pallet magazine (FPM) is a standard flexible manufacturing system for one or more machine tools. The FPM consists of a high-speed stacker crane, pallet storage rack with two or three levels, user-friendly loading ...
See the other products
FASTEMS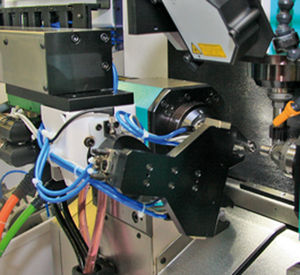 robotic loading cell
max. ø 36 mm | AF70
Principle: The loading head is equipped with a double gripper system for parallel loading and unloading. The loading movements are performed by CNC-axes. The parts feeding may be performed by 3 different methods, according to the application, ...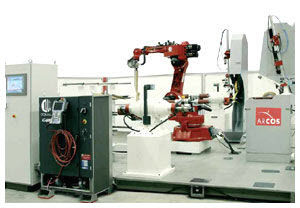 robotic surfacing cell
W020
... equipped with 3 grinding units, and loading or unloading system, integrated with a rotary multi-plane table. The device is a robotic system unified with a vision system, suitable for use in the grinding of gunstocks. ...
See the other products
ARCOS SRL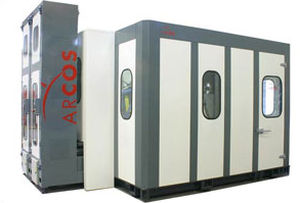 robotic loading cell
W028
The W028 model is a loading robotic cell developed by ARCOS SRL. It uses an automatic loading and unloading system and an offline programming system. This cell is specifically ...
See the other products
ARCOS SRL