How to choose this product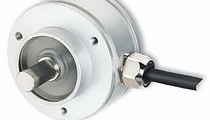 Rotary encoders are devices that provide angular position feedback for motion control applications. They provide information such as angular speed, position, displacement, direction and acceleration.
Applications
Rotary encoders are used to provide motion control feedback for rotational applications. Mounted on the shaft of an electric motor, they control the position, acceleration, speed or direction.
Technologies
There exist two types of rotary encoders: incremental and absolute. Incremental models indicate the change in position of a rotating shaft from a known reference point. Absolute versions provide an absolute position rather than the change in position.
How to choose
The type of output and the environment in which your rotary encoder will perform can help in narrowing down your choices. Defining measurement needs will enable you to select between absolute and incremental types, and between optical and magnetic models.
Advantages
- Motion control