How to choose this product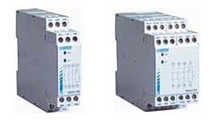 A safety relay can safely and reliably shut off a machine or shut down a process in the absence of safe working conditions.
Applications
These devices serve primarily to protect workshops, factories and production centers where both people and machines are present. They monitor door opening and closing, electrical current leakage and any other defined condition or event considered potentially dangerous for human beings.
Technologies
As with other relays, such units may be electromechanical, though most now are semiconductor-based solid state models. Some are directly programmable and take the form of rail-mounted ISO cases.
How to choose
Most safety relays are solid state to avoid the potential problems of electromechanical models (broken springs, sticky contacts, coil failure, etc.). Choice of relay is always a function of associated detectors (door opening/closing, limit switch, immaterial barriers).