How to choose this product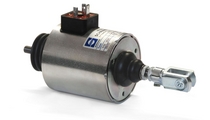 Solenoids are electromechanical actuators. They are composed of a cylindrical electric coil (electromagnet) capable of activating a rotary or sliding core. They are available in all sizes, and can control forces up to several tons.
Applications
Linear models control electric locks, and are found in circuit breakers, pumps and automobiles. Rotary types are used in machine tools, as laser shutters, in sorters and to close fire doors.
Technologies
Solenoids are linear or rotary. Return to rest position is by gravity, a return spring, or the load they convey. They can be uni- or bi-directional. Linear, or tubular solenoids pull or push the core plunger over a short stroke distance. Rotary solenoids are more powerful, especially in terms of starting torque.

Bi-stable solenoids feature two stable positions, maintained via permanent magnets, mechanical or electrical systems. Control polarity determines the position of the moving part.

The duty cycle is the ratio between the total time of operation and the duration of a complete cycle. It varies with the solenoid's construction and use, and affects the temperature of the solenoid, which can be equipped with a cooling system.
How to choose
Consider the solenoid's stroke length, its power or torque, control voltage, lifespan (in number of cycles) and isolation class.