How to choose this product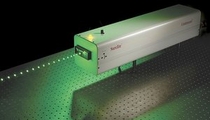 Solid state lasers are composed of a solid state amplifier (crystal, glass, semiconductor). The crystal or glass is doped, which determines wavelength. Sufficient optic cavity strip size can result in a powerful laser. The pumping is optical (flashes or diodes).

In semiconductor lasers, the cavity is the diode's p-n junction. The pumping is electrical (low-voltage flow in the junction). The resulting power is weaker.
Applications
Applications depend on beam power. Crystal lasers deliver very high power (from continuous kW to pulsed GW), and are used to weld, mark and cut materials.

Semiconductor lasers have low-power applications in telecommunications and in optoelectronics. They are the most common laser type. However, they are also used in high-power applications (kW) such as marking and welding.
Technologies
The gain medium of these lasers is a solid material. Crystal lasers have optical cavities (YAG, ruby, sapphire) doped with Cr and Ti ions, but also rare earth elements (Nd, Yb, Er, et al.). Semiconductor lasers use a doped silicon p-n junction. Energy is provided at the center via continuous or pulsed pumping.
How to choose
Choice of a solid state laser depends on the desired use. The amplifying unit (semiconductor, crystal) determines the wavelength and the power range. Choice will also depend on the pumping mode (flash lamps, diodes or electrical current), which establishes the mode of operation (pulsed or continuous) and the output power.