How to choose this product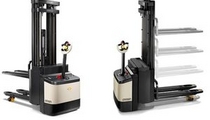 Their front forks and solid base enable stackers to transport, place and retrieve pallets to and from warehouse storage racks. They can be either manually or electrically operated. Stackers are available in three configurations for the convenience of the operator: stand-on, sit-on or pedestrian.
Applications
Stackers are generally used in warehousing to stack and arrange pallets on storage racks. The numerous models (stand-on, sit-on or pedestrian) allow adaptation to multiple applications.
Technologies
Whether manual or electric, the principal elements remain the same: front forks attached to a mast enable the stacker to raise and deposit a pallet onto storage racking and to remove it when needed. For convenience, they are available with regular legs or straddle legs.
How to choose
The specific needs of the application must be taken into account when choosing a stacker. Its maximum height and weight are important factors, as is the budget.