How to choose this product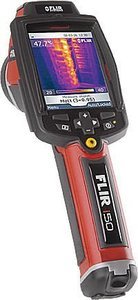 A thermal imager is a highly sensitive, broad-spectrum infrared camera. It enables one to measure temperatures at a distance (infrared thermography).
Applications
Thermal imager applications are numerous. They are used as measuring instruments in infrared thermometry, the measurement of temperature at a distance (a metal's melting temperature, an oven's temperature, etc.). They detect anomalies and thermal leaks in buildings, and can also detect overvoltage in power lines.
Technologies
Thermal imagers are characterized by their spatial resolution (related to the sensor's definition) and thermal resolution (the smallest perceptible temperature difference). Two types of thermal imagers exist: cooled-sensor cameras and uncooled-sensor cameras.
How to choose
The main choice criteria are sensitivity and the range of the detected infrared spectrum (near infrared and far infrared). Spatial resolution is important for image analysis (recognition of objects and individuals, pinpointing leakage, etc.). Finally, one must consider the advantages of cooling the camera to obtain increased resolution (laboratory instruments).
Advantages
- Excellent image quality
- Significant spatial resolution
- Broad detection range