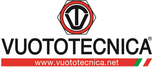 Booth:
VUOTOTECNICA

Electronic vacuum switch

max. 100 kPa | 120510xP, 12051xN series
VUOTOTECNICA
These small devices, if accurately calibrated and compensated for temperatures, are able to give very precise digital signals to the set maximum measuring value.
The commutation point, which is within the scale value, can be easily programmed by means of an adjustment screw located on the upper part of the device. A red LED near the screw indicates the digital output signal commutation status. The pressure differential (hysteresis) between the set maximum value and the value of reset of the rest signal is 2% of the set value and cannot be adjusted. They are composed of a polycarbonate enclosure, which includes the sensor and the electric circuit, and of a coupler or a small aluminium manifold with the vacuum connections. Art. 12 05 10 can also be rotated freely to place the display in the desired position, without having to unscrew it from the vacuum connection. The vacuum connection can be carried out via male or female M5 connectors, while the electrical connection is made via a three-connector cable which they are equipped with. Mini digital vacuum switches are suited for controlling dry air and non-corrosive gasses and they are recommended in all those cases that require a signal when a certain vacuum level is reached, for safety, for starting a cycle, for checking the cup grip, etc.
Other VUOTOTECNICA products
Vacuum measurement, control and adjustment instruments
Vacuum cups
Vacuum cup holders
Vacuum valves and solenoid valves
Suction filters
Vacuum fittings and hoses
Vacuum pumps and pumpsets
Vacuum generators and pneumatic pumpsets
Octopus vacuum gripping system
Graphic division
Special products