{{#pushedProductsPlacement4.length}} {{#each pushedProductsPlacement4}}

{{product.productLabel}}
{{product.model}}
{{#each product.specData:i}} {{name}}: {{value}} {{#i!=(product.specData.length-1)}}
{{/end}} {{/each}}
{{{product.idpText}}}
{{#if company.requestButtonsVisibility.requestButtonQuestion == "ACTIVE"}}
{{elseif company.requestButtonsVisibility.requestButtonWhereToBuy == "ACTIVE"}}
{{/if}}
{{#if product.innovationType}} {{else}} {{#if product.newProduct}} {{/if}} {{/if}} {{#if product.hasVideo}} {{/if}}
{{/each}} {{/pushedProductsPlacement4.length}}
{{#pushedProductsPlacement5.length}} {{#each pushedProductsPlacement5}}

{{product.productLabel}}
{{product.model}}
{{#each product.specData:i}} {{name}}: {{value}} {{#i!=(product.specData.length-1)}}
{{/end}} {{/each}}
{{{product.idpText}}}
{{#if company.requestButtonsVisibility.requestButtonQuestion == "ACTIVE"}}
{{elseif company.requestButtonsVisibility.requestButtonWhereToBuy == "ACTIVE"}}
{{/if}}
{{#if product.innovationType}} {{else}} {{#if product.newProduct}} {{/if}} {{/if}} {{#if product.hasVideo}} {{/if}}
{{/each}} {{/pushedProductsPlacement5.length}}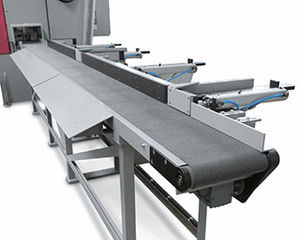 Disposal belt with pushing units - With plastic woven belt for gentle-action material handling - Reliable material transport of long and short cut-offs - Pushing units for discharge into different containers Customer-specific ...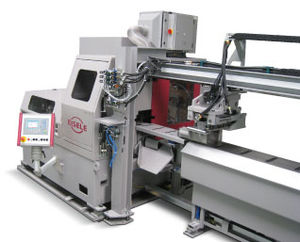 Custom Disposal If you talk about the sawing process, you must also think about the disposal process. Whether merely evacuating the cut pieces or feeding them to subsequent processing stations – We can handle your cut pieces and guide ...

horizontal divider
TRAINTONIC
Traintonic Lane Divider from Cermex offers high speed distribution of products between outfeed lanes of upstream machine and infeed lanes of downstream machines. It sorts products and continuously divides two to 12 lanes without accumulating ...

horizontal divider
DiviArm
The DiviSlat Slat Lane Divider from Cermex offers diversion, merging, sorting, ejection and balancing of products between outfeed lanes of upstream machinery and infeed lanes of downstream machinery. It sorts the products based on their ...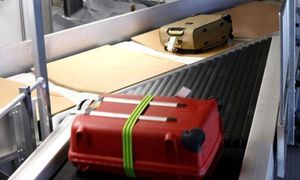 tilt-tray sorter
LS-4000E
The LS-4000E tilt-tray systems high capacity and ability to handle a wide range of baggage shapes and sizes increases operational throughput without the need for additional floor space. In many airports this extra capacity may be sufficient ...
See the other products
BEUMER Group GmbH & Co. KG

tilt-tray sorter
LS-4000ECON
The Crisplant LS-4000econ tilt tray sorter is a compact baggage handling system that combines the industry's most energy-efficient baggage sortation technology with features such as high availability and low product life cycle costs, ...
See the other products
BEUMER Group GmbH & Co. KG

cross-belt sorter
LS-4000CB
The LS-4000CB cross-belt sorter has been introduced as the latest member of the LS-4000 family, specifically to meet the needs of space constrained airports. It can help to provide the additional capacity to meet forecasts for increased ...
See the other products
BEUMER Group GmbH & Co. KG

transfer vehicle sorting system
AUTOVER®
Fast, flexible and safe baggage handling is crucial for airports to achieve state-of-the-art efficiency and an exceptional passenger experience. The BEUMER autover independent carrier system (ICS), with the intelligent autoca carrier, ...
See the other products
BEUMER Group GmbH & Co. KG

baggage sorting system
CRISBAG®
CrisBag® is a best-in-class tote-based baggage handling system. Each item of baggage remains in the same individually - controlled tote throughout the complete baggage handling process from check-in to early baggage storage, in-tote ...
See the other products
BEUMER Group GmbH & Co. KG

The Wamgroup DCN Weigh-Belt Feeders are gravimetric mechanisms utilized as continuous feeders or as batch feeders. These feeders allow diverse functionalities as the continuous feeders manage the flow of a material while the batch feeders ...

The Dynamic Motion Transfer (DMT) diverter is designed based on motion concepts combined with intelligent features to deliver perfect perfectly balanced flows at up to 1000 products/min, produce demand driven production with enhanced ...

Electrical pusher for PCB insertion into magazine Electrical expeller for automatic PCB insertion in line Extended SMEMA interface Good/bad sortingD

The push crank discharger ST 6110 is capable of pushing material at a 90° angle to the direction of its travel. It is capable of gently pushing the material perpendicularly to its own movement, even when operating at very high speeds. ...

Horizontal Crossbelt Sorters are ideal for use in areas that have limited in space but require long and reliable belt systems. These devices can be used to create curves in smaller workspace areas, and are also suitable for dealing with ...

The Vertical Sorter with straight routing has a compact and modular design. A vertical sorter with 400 x 400 mm crossbelt carriers can be installed inside just 1.7 m. Full trays are carried inside to save space - a unique feature. The ...

color sorting system
Innocheck BSS
Throughput: 72000 p/h
When glass bottles need to be made ready for bottling, the Innocheck BSS (Bottle Sorting System) enables them to be reliably inspected and sorted. It can efficiently all sorts and types of bottles and materials up to 72,000 bottles/h. ...

lane divider
Innopack Kisters Divider
The Innopack Kisters Divider are created as distribution system for prepacked products, designed and develop by KHS. Mainly use for beverage and food sectors that comprises of cans, PET and glass bottles, the Innopack Kisters Divider ...

cross-belt sorting system
Throughput: 10000 p/h
The cross-belt sorter is manufactured by SSI Schaefer, and is a highly product-friendly, fast and precise sorting unit, which has sliding and conveyor technology tracks that can be utilized as destination points. The high speeds up to ...

Throughput: 120000 p/h
Failed: Only defect-free containers are allowed to pass the quality control stages along a bottling line. And the rest? They have to be filtered out of the production flow as quickly as possible ideally by a rejection system from Krones. ...

color sorting machine
Sekamat
Throughput: 72000 p/min
This sorter was designed and assembled by Sekamat and can be directly attached to a conveyor, differentiating the containers passing according to specific criteria. The containers are inspected contact-free, meaning that they will ...

preform bottle unscrambler
Contifeed RS
The out of the ordinary Contifeed RS roller orientor delivers the Contiform with amazingly oriented PET preforms. This equipment is specifically built with a boundlessly adaptable sorter that is highly suitable for any preform size. The ...

tilt-tray sorter
HELIXORTER
Helixorter is a tilt tray sorter that will handle most products that vary in size, shape, and packaging. It is economically efficient that has a capacity up to 6,000 trays per hour and a speed of 2 m/s. A machine that provides the user ...
See the other products
VANDERLANDE INDUSTRIES

sliding shoe sorter
TRAXORTER
TRAXORTER is dubbed as a class leading baggage sorter with controlled baggage. It jogs at a speed of 2m/s and can handle an impressive 6000 trays per hour. Traxorter is enclosed by a deck and boasts the best tracking system and lowest ...
See the other products
VANDERLANDE INDUSTRIES

sliding shoe sorter
BAXORTER
The BAXORTER is a highly dependable sorting system that is also economical. It features a positive sorting method and resilience in its system design and setup. The BAXORTER has a very compact design.To continue, the BAXORTER Vanderlande ...
See the other products
VANDERLANDE INDUSTRIES

pivot arm sorter
VERTIBELT
The VERTIBELT is a widely used horizontal diverter with a capacity of 1,200 bags per hour. Single bags or trains of bags are sorted and sent to one destination. Uses a vertically mounted rigid conveyor, with a crank mechanism providing ...
See the other products
VANDERLANDE INDUSTRIES

baggage divider
VERTISORTER, VERTICROSS
The Vertisorter by Vanderlande is fitted with horizontal conveyors that deliver unmatched tracking performance. These conveyor belts can sort 1800 bags vertically per hour and from one belt to two more, with them being stacked on top ...
See the other products
VANDERLANDE INDUSTRIES

preform bottle unscrambler
max. 200 p/min | SIRIO3 ROB
The automatic unscrambler Sirio 3 is used for automatic alignment of round or square shaped plastic bottles, without use of compressed air. The system is integrated with 300 litres main hopper and belt elevator. The pre-­orienting centrifugal ...

preform bottle unscrambler
UT, AT series
The AT series Rotative Preform Bottle Unscrambler, manufactured by Cozzoli Machine Company, is specifically designed with two types of tables. The accumulating tables are built with five sizes which are T24, AT30, AT36, AT42 and AT48. ...

rotative vial unscrambler
VU series
The VU vibratory unscrambler series is utilized for small plastic vials for unscrambling in filling systems. The unit's design is convenient for activities under laminar air flow. The device is integrated with a vibratory bowl, which ...

X-ray sorting machine
RAYCON BULK
The RAYCON Bulk X-ray product sorting system detects contaminants at high line speeds which is due to density, chemical composition, or mechanical dimensions. It absorbs X-radiation, which has a greater degree than the surrounding bulk ...

color sorting machine
FLAKE PURIFIER C
The FLAKE PURIFIER C color sorting system is specially developed to sort PET flake and separate different colored PET flake streams into pure color fractions. The series is made with a modular concept in which up to three sensors can ...

color sorting machine
FLAKE PURIFIER N
Application Profile Operation separates different types of plastics Inspection of bulk materials Material flow belt conveyors chutes bulk material columns vibration feeder Benefits Universal system for plastics recycling Effective contamination ...



bottle unscrambler
BOTTLEMAT Robot 3
Flexible Robot Bottle Handling Machine For automatic unscrambling, orienting and inserting of plastic bottles from approx. 50 to 1.000 ml into RATILIGHT Pucks Special advantages: 100% occupancy of the RATILIGHT Pucks transported ...

rotary bottle unscrambler
BOTTLEMAT gently
BOTTLEMAT gently 2/8 Rotary bottle handling system for automatic and gentle unscrambling of plastic bottles of approx. 100 up to 1.000 ml in RATILIGHT Pucks Special advantages: - Without format parts - Rapid and easy format ...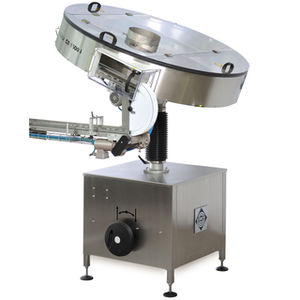 Different sorters are selectable depending on type of caps and output: - CAP SORTER (CS): Rotary disk sorter for round and shaped caps - PUMP CAP SORTER (PCS): Rotary disk sorter for dosing- and spray pumps as well ...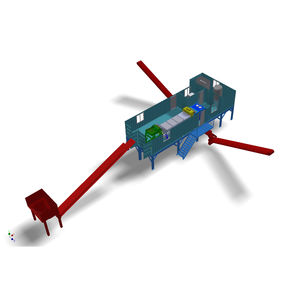 mobile sorting machine
CXR-1000
Mobile system. Container installation of the CXR-1000 sorter, provides the possibility to sort different materials by X-ray and optical sensors. The system can easily be transported to the site together with the conveyors for feeding ...

Multichannel scanning system from Comex (MSX series) provides a wide range of test possibilities to characterise and separate different materials. The main function is to characterise analysed particles in terms of their properties ...

X-ray sorting machine
CXR Series
X-ray sorting series CXR separating systems have several interesting features. It extends the optical frequencies of certain other frequencies present in the visible light. It applies various different frequencies for selective camera ...

optical sorting machine
5 - 250 t/h | OSX Series
The Sensor-based Series OSX is specially designed to provide a high quality performance and functionality for users in need of supplied configurations depending on their needs and standards. The OSX is available in several customized ...

The horizontal conveyor diverter by Productive Systems is a servo-driven and in-motion bottle diverting system. It is designed with 11 bagging machines for a particular industry in Saudi Arabia. This device has double in-feed baggers ...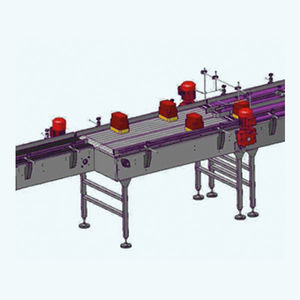 vertical divider
max. 70 p/min
Features Inflow of the prodcuts via a feed belt, Distribution of products through the Distributor Switch, variable on two belts. The products are distributed contact-less over a special strap hinge. They are either transported in a ...


rotative vial unscrambler
WH-962
The WH-962 is a laboratory tube rotator developed by SMTmax. It comes with 0 rpm to 250 rpm stepless speed regulation, 250 rpm maximum speed, 110V AC power supply, and digital display. In addition, the unit is equipped with 13.8 x 10.6 ...