articulated robot
6 kg | LWA 4.6
The Powerball-Lightweightarm LWA 4.6 belongs to the modular robotics industry. It is an ideal machine to be used in mobile applications in service robotics and in industrial handling. It features a weight/payload ratio of 2:1. Considered ...

turning manipulator
245 - 321 N, 2.26 - 3.7 Nm | DRL 20
The DRL 25 is a pneumatic rotary lift machine that enables smooth and dynamic pick and place operations with 180-degree and 90-degree rotation angles. It is the latest addition to SCHUNKs line of fast products for high-speed assembly ...

It has the highest variability in operation and traversing range and has perfectly concerted, miniaturized components. It has unique center hole for camera monitoring, a laser feed through and a tool interference. The Z-axis, Compact, ...


Order picking is the process of collating a wide range of materials and components, in order to produce a desired product for release. This is a demanding task in standard warehouse automation operations, since 90% of of the work ...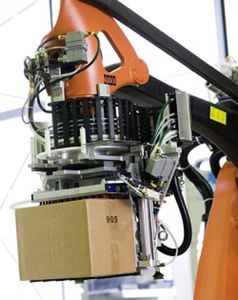 The Automatic Palletisation is an efficient and flexible robot system. It offers a complex solution for palletising outbound goods or roller containers. The unit features virtually zero risk of packed units shifting or falling down, ...

To respond to the market's requirements for high speed, flexible and compactness of palletizing section for modern production lines, the Flex palletizer is the ideal choice. Its most vital feature is the robot which can pick up incoming ...

articulated robot
MINIFLEX

See the other products
MANIBO

See the other products
MANIBO

Pneumatic industrial arm manipulator with tilting permanent magnet, operated by a pneumatic actuator. Gripping is made by a permanent magnet operated by a pneumatic actuator, controlled from the handle. The real capacity of the magnet ...
See the other products
MANIBO

Pneumatic industrial arm manipulator with two self centring jaws gripping tool, for internal gripping of engine cylinders blocks. Gripping is made by a pneumatically operated gripping tool with two jaws pushing from inside the cylinders ...
See the other products
MANIBO

pneumatic manipulator arm
Carrying capacity: 100 kg - 600 kg
MANIBO Pneumatic manipulators are essentially utilized for instant and recurrent operations of loads in production lines for loading and unloading of device machines for construction of mechanical pieces. Owing to the likelihood of weight-free ...
See the other products
MANIBO

handling manipulator
MA series
FACCIN is the ideal partner when investing in a modern dished end fabrication line. Over 30 years experience and a long line of satisfied customers is your guarantee for the quality of the product. Our many installations are also ...


Carrying capacity: 60, 120 kg
TAWI Drum manipulator is suitable for use in industries that make use of drums, such as pharmaceutical and food manufacturing plants. It has a vacuum cup that securely holds the drum, while the TH80 lifts the goods. The TH80 can be supplied ...

pneumatic manipulator
max. 22 kg
Carrying capacity: 22 kg
The TH80 with a pneumatic tool keg lifter is commonly used in the beverage industry. It is a lifter that can be operated and managed by one person. The lifter's pneumatic tool is controlled separately. Safety features are provided with ...

This specially designed TH80 fork tool is ideal for use in lifting wooden pallets and has become one of the most popular of its kind. The forks are inserted under the pallet, which can then smoothly and quickly be lifted a in singular ...

pneumatic manipulator
max. 80 kg
Carrying capacity: 80 kg
The TH80 manufactured by Tawi is a lifting device for automotive parts equipment. Due to high demands for effective lifting equipment in the automotive industry, TH80 is equipped with high precision positioning and high operating speeds. ...

pneumatic manipulator
max. 120 kg
Carrying capacity: 120 kg
The Reel Lifter is manufactured by Tawi, and is an outbalanced boom that is inserted into a large core of the reel of packaging material, and can be moved and equipped into the packaging equipment. The unit can equipped with a core ...

pneumatic manipulator
mini series
Carrying capacity: 125 kg - 250 kg
This device provides variable lifting/lowering speeds and precise positioning by using sensitive direct control. It offers one-hand operation for easily lowering, lifting and feeling of loads, and the manual trolley features manual traversing. ...

automatic materials handling system
Winkel manufactured a wide variety of handling systems with lift that are ideal for use in applications that require steady utilization with little servicing. They feature a telescopic fork, and an electric control unit. There are ...

The AML or the Automated Loading system permits the re-tasking of human assets and interaction. It eliminates low-skill labor, and also reduces both repetitive motion, and downtime and costs. Its loading trays and carton carriers ...

foam vacuum gripping system
TL, TC series
Automated handling of individual products or product layers without gripper change Suitable for rigid products with an even or uneven surface Integrated valves seal unused suction openings without loss of gripping force ...

cartesian robot
KeMotion IMM
KeMotion IMM is an easy-to-use robot regulator maximized for automatic removal processes on plastic insertion casting equipments. It provides the smallest cycle spans along with powerful, shock-proof motion through smart movement features. ...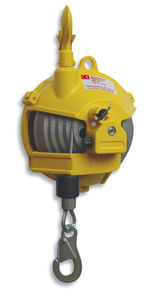 This balancer from Rai-Yokota is available in 2 types. The first is TW-5 with a load capacity of 2.5kg to 5kg and a cable length of 1.3m. The TW-5 weighs 1.5kg. The other type is TW-3, which has a load capacity of 1kg to 3kg, a cable ...

multi-axis materials handling system
The new version of Machinery Directive 2006/42/EC comes into force on 29.12.2009. During normal operation of the axis a pressurised pneumatic unit ensures that the locking system is open. Only upon loss of pressure, for example in case ...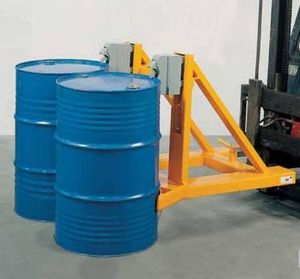 manipulator with gripping tool
200 l
These pliers for drums aid in carrying 200 liter drums without damaging them. The gripping and releasing are controlled automatically in the driver's seat. These pliers can also transport goods vertically, and the grip is secure for ...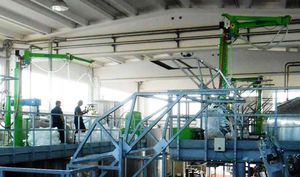 manipulator with orbital end effector
INDEVA Liftronic
See the other products
Scaglia Indeva

vacuum manipulator
max. 320 kg | Liftronic® Series
Carrying capacity: 320 kg
To take care of the presing needs for increased productivity and safety, a new ergonomic solution comprising of electronic zero gravity balancers has been introduced for material handling. Manipulators belonging to the INDEVA class ...
See the other products
Scaglia Indeva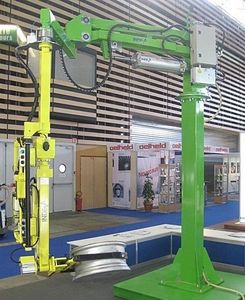 manipulator with pneumatic drive
max. 250 kg | Liftronic® Air
Carrying capacity: 250 kg
The INDEVA Liftronic® Air load handling system represents the latest generation of industrial manipulators with pneumatic lifting force and electronic control. This intelligent system offers all the benefits of the traditional pneumatic ...
See the other products
Scaglia Indeva

manipulator with gripping tool
max. 240 kg | Liftronic® Easy
Carrying capacity: 240 kg
Liftronic® EASY is an industrial manipulator beloning to the INDEVA Liftronic® series. It is designed for use in simple applications that has non-complex and rapid work cycles. It is used in combination with mechanic lifting tools such ...
See the other products
Scaglia Indeva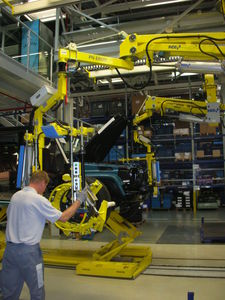 pneumatic manipulator
80 - 250 kg | SERIE PN
Carrying capacity: 80 kg - 250 kg
PN COMPATTO is a pneumatic controlled manipulator equipped with rigid vertical arm for compact applications in work areas with low ceiling. Delivering maximum lifting speed of 0.5mm/sec,it has a standard rotation of 550° around tool ...
See the other products
Scaglia Indeva

The SH 75 from Weiss is a lifting rotating unit equipped with a stroke range from zero up to 75 mm, which is freely programmable. The tool has a 10 Nm torque MT, and maximum 30 N of normal force. It is designed with independent servo ...

Payload: 3 kg
Reach: 500 mm
Repeatability: 0.1 mm
UR3 is our new, smaller collaborative table-top robot for light assembly tasks and automated workbench scenarios. The compact table-top robot weighs only 24.3 lbs (11 kg), but has a payload of 6.6 lbs (3 kg), 360-degree rotation on all ...

Payload: 5 kg
Reach: 850 mm
Repeatability: 0.1 mm
The lightweight, flexible and collaborative industrial robot - UR5 - from Universal Robots lets you automate repetitive and dangerous tasks with payloads of up to 5 kg. The UR5 is ideal to optimize low-weight collaborative processes, ...

Payload: 10 kg
Reach: 1300 mm
Repeatability: 0.1 mm
The Universal Robots UR10 is our largest industrial robot arm, designed for bigger tasks where precision and reliability are still of paramount importance. With the indstrial robot arm - UR10 - you can automate processes and tasks that ...

manipulator with hook
GCHHK series
Carrying capacity: 500 kg
Handy chain model GCHHK up to 500 kg For the quick and comfortable positioning of the load Operation of chain hoist and guiding of the load with one hand Hook travel stop position individually adjustable by geared limit switch Control ...