Order picking is the process of collating a wide range of materials and components, in order to produce a desired product for release. This is a demanding task in standard warehouse automation operations, since 90% of of the work ...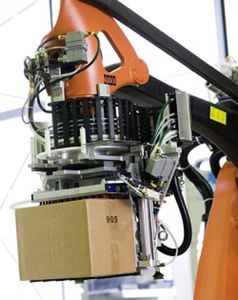 The Automatic Palletisation is an efficient and flexible robot system. It offers a complex solution for palletising outbound goods or roller containers. The unit features virtually zero risk of packed units shifting or falling down, integrated ...

workpiece materials handling system
WH 2
WH 2 workpiece handling provides compact handling for smaller workpieces weighing up to 2 kg. Works continuously with a 6-axis industrial robot from the workpiece storage. Its safety housing integrates robots and workpiece storage, which ...
See the other products
DMG MORI

workpiece materials handling system
WH 3
The WH 3 solution is extremely flexible, easily accessible, and universally deployable and is best suited for various turning machines and milling machines as well as other types of machines including spark erosion machines with workpieces ...
See the other products
DMG MORI

workpiece materials handling system
WH 3 U
The WH 3 U is an exceptional space-saving restacking system for a high autonomous service performance. The dynamic 15-fold restacking system offers extremely high storage capacity. The option of front or side loading ensures maximum flexibility. ...
See the other products
DMG MORI

workpiece materials handling system
WH 10, WH 25
The WH 10 and 25 workpiece handling solutions are best suited for loading turning and milling machines with pieces up to 10 and 25 kg, respectively. Equipped with an industrial robot and workpiece storage with two drawers, these standardised ...
See the other products
DMG MORI

workpiece materials handling system
WH 10 top
TWith its integrated workpiece storage up to 10 kg, this solution is best suited for the DMG MORI turning machine series. Machine loading from above saves valuable footprint area. During setup procedures, very good accessibility of the ...
See the other products
DMG MORI

articulated robot
6 kg | LWA 4.6
The Powerball-Lightweightarm LWA 4.6 belongs to the modular robotics industry. It is an ideal machine to be used in mobile applications in service robotics and in industrial handling. It features a weight/payload ratio of 2:1. Considered ...

turning manipulator
245 - 321 N, 2.26 - 3.7 Nm | DRL 20
The DRL 25 is a pneumatic rotary lift machine that enables smooth and dynamic pick and place operations with 180-degree and 90-degree rotation angles. It is the latest addition to SCHUNKs line of fast products for high-speed assembly ...

It has the highest variability in operation and traversing range and has perfectly concerted, miniaturized components. It has unique center hole for camera monitoring, a laser feed through and a tool interference. The Z-axis, Compact, ...

ARBURG's highly flexible six axis robots are created to allow reliable and convenient handling highly-complex tasks. It comes with a compact and small design but guarantees to deliver faster cycles and synchronous movements to deliver ...

To respond to the market's requirements for high speed, flexible and compactness of palletizing section for modern production lines, the Flex palletizer is the ideal choice. Its most vital feature is the robot which can pick up incoming ...

articulated robot
MINIFLEX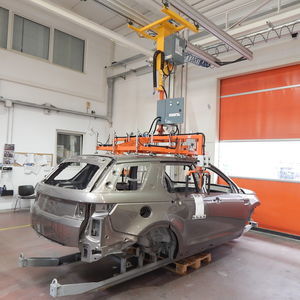 pneumatic manipulator
ATISlinear
Carrying capacity: 5 kg - 500 kg
See the other products
ATIS s.r.l.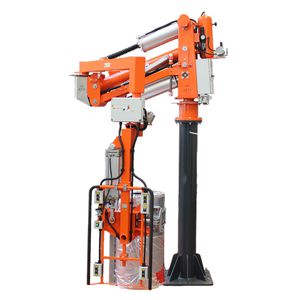 pneumatic manipulator arm
ATISmirus 500
Carrying capacity: 200 kg - 600 kg
Pneumatic rigid arm manipulator. Designed to increase the technical and structural features , equipped with a big cylinder to handle very heavy load and to achieve bigger working radius . It can be supplied with bespoke gripping tool to suit customer
See the other products
ATIS s.r.l.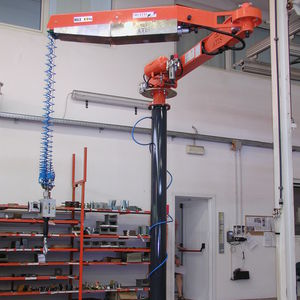 pneumatic manipulator arm
ATISacer 80
Carrying capacity: 5 kg - 80 kg
The newest member of ATISacer family.The manipulator is provided with a double rope system and pneumatic cylinder. The pneumatic system of manipulator allows the balanced movements, both with and without load.It can be equipped with bespoke gripping
See the other products
ATIS s.r.l.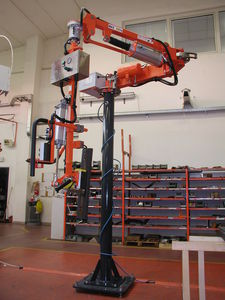 pneumatic manipulator
ATISferax
Carrying capacity: 0 kg - 80 kg
ATISferax manipualtor with lever actionable vertical movements that allow load handling in all directions with extreme semplicity and precision. These light weight manipulators are extremely agile and reduce processing time. ATISferax ...
See the other products
ATIS s.r.l.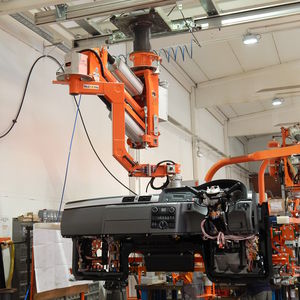 pneumatic manipulator
ATISmirus 300
Carrying capacity: 5 kg - 300 kg
Industrial pneumaticmanipulator ATISmirus with bespoke gripping system that allow the pick up of truck dashboard from the containers and install them on the middle of the production line. The equipment has been tailored for the end customer. ...
See the other products
ATIS s.r.l.

Automated assembly stations, end-of-line palletizing systems, highly automated manufacturing stages: these are but some of the countless CASSIOLI robotized applications for assembly lines. Mono-line/multi-line, Cartesian axis robots guaranty ...

Nowadays, the use of modern robots in the field of integrated automation allows cutting down on work time considerably and, consequently, increasing company productivity. CASSIOLI robotic work areas also greatly improve product quality, ...

See the other products
MANIBO

See the other products
MANIBO

Pneumatic industrial arm manipulator with tilting permanent magnet, operated by a pneumatic actuator. Gripping is made by a permanent magnet operated by a pneumatic actuator, controlled from the handle. The real capacity of the magnet ...
See the other products
MANIBO

Pneumatic industrial arm manipulator with two self centring jaws gripping tool, for internal gripping of engine cylinders blocks. Gripping is made by a pneumatically operated gripping tool with two jaws pushing from inside the cylinders ...
See the other products
MANIBO

pneumatic manipulator arm
Carrying capacity: 100 kg - 600 kg
MANIBO Pneumatic manipulators are essentially utilized for instant and recurrent operations of loads in production lines for loading and unloading of device machines for construction of mechanical pieces. Owing to the likelihood of weight-free ...
See the other products
MANIBO

hydraulic manipulator
MA series
FACCIN is the ideal partner when investing in a modern dished end fabrication line. Over 30 years experience and a long line of satisfied customers is your guarantee for the quality of the product. Our many installations are also a ...

manipulator with suction cup
37

spring tool balancer
0.5 - 70 kg
The Tigon has a wide range of spring and hose reel balancers. It provides an easy and cost-saving solution to take the burden from managing tools. It improves work security and efficiency. The balancer has a capacity of 0.5 to 70 kg, ...


spring tool balancer
520000000
Load: 0.5 kg - 2 kg
Carl Stahl presents 5200 CondorLift retractor. Load can be adjusted easily with hand wheel. It has a plastic housing with high impact resistance. The retractor is compact, small and low weight. It is compatible with all assembly workstations. ...

spring tool balancer
721208000 series
Load: 0.5 kg - 3 kg
Carl Stahl's Spring Balance can carry a load of 0.5 to 3 kg. It has a robust housing made of abrasion-resistant plastic. Features of the spring balance include an insulated suspension with swivelling snap hook with screw lock, load swivel, ...

tool balancer
723000000 series
Load: 3 kg - 21 kg
The Manual Lifting Equipment makes lifting heavy loads easy. The compact chain blocks and ratchet hoists from the Premium Product Line Condor Lift fulfill highest requirements regarding quality, The price and performance are designed ...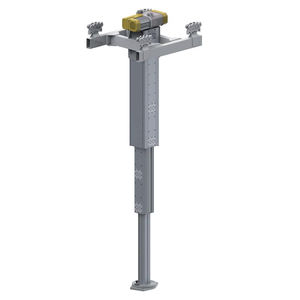 pneumatic manipulator
CS Move
Carrying capacity: 1000 kg
The Overhead manipulator can be individually deployed and can carry a maximum load of 1000 kg and higher loads can be availed upon request. It has electric lifting, pneumatic feature that can be also acquired upon request as well as high ...

multi-axis materials handling system
The new version of Machinery Directive 2006/42/EC comes into force on 29.12.2009. During normal operation of the axis a pressurised pneumatic unit ensures that the locking system is open. Only upon loss of pressure, for example in case ...


Carrying capacity: 120, 60 kg
TAWI Drum manipulator is suitable for use in industries that make use of drums, such as pharmaceutical and food manufacturing plants. It has a vacuum cup that securely holds the drum, while the TH80 lifts the goods. The TH80 can be supplied ...

pneumatic manipulator
max. 22 kg
Carrying capacity: 22 kg
The TH80 with a pneumatic tool keg lifter is commonly used in the beverage industry. It is a lifter that can be operated and managed by one person. The lifter's pneumatic tool is controlled separately. Safety features are provided with ...

This specially designed TH80 fork tool is ideal for use in lifting wooden pallets and has become one of the most popular of its kind. The forks are inserted under the pallet, which can then smoothly and quickly be lifted a in singular ...

pneumatic manipulator
max. 80 kg
Carrying capacity: 80 kg
The TH80 manufactured by Tawi is a lifting device for automotive parts equipment. Due to high demands for effective lifting equipment in the automotive industry, TH80 is equipped with high precision positioning and high operating speeds. ...

pneumatic manipulator
max. 120 kg
Carrying capacity: 120 kg
The Reel Lifter is manufactured by Tawi, and is an outbalanced boom that is inserted into a large core of the reel of packaging material, and can be moved and equipped into the packaging equipment. The unit can equipped with a core ...

pneumatic manipulator
mini series
Carrying capacity: 125 kg - 250 kg
This device provides variable lifting/lowering speeds and precise positioning by using sensitive direct control. It offers one-hand operation for easily lowering, lifting and feeling of loads, and the manual trolley features manual traversing. ...

automatic materials handling system
Winkel manufactured a wide variety of handling systems with lift that are ideal for use in applications that require steady utilization with little servicing. They feature a telescopic fork, and an electric control unit. There are ...

The AML or the Automated Loading system permits the re-tasking of human assets and interaction. It eliminates low-skill labor, and also reduces both repetitive motion, and downtime and costs. Its loading trays and carton carriers with ...

foam vacuum gripping system
TL, TC series
Automated handling of individual products or product layers without gripper change Suitable for rigid products with an even or uneven surface Integrated valves seal unused suction openings without loss of gripping force ...

cartesian robot
KeMotion IMM
KeMotion IMM is an easy-to-use robot regulator maximized for automatic removal processes on plastic insertion casting equipments. It provides the smallest cycle spans along with powerful, shock-proof motion through smart movement features. ...