{{loadProductsPushed('subcat','4', '','','4', '3')}} {{#pushedProductsPlacement4.length}} {{#each pushedProductsPlacement4}}

{{product.productLabel}}
{{product.model}}
{{#each product.specData:i}} {{name}}: {{value}} {{#i!=(product.specData.length-1)}}
{{/end}} {{/each}}
{{{product.idpText}}}
{{#if company.requestButtonsVisibility.requestButtonQuestion == "ACTIVE"}}
{{elseif company.requestButtonsVisibility.requestButtonWhereToBuy == "ACTIVE"}}
{{/if}}
{{#if product.innovationType}} {{else}} {{#if product.newProduct}} {{/if}} {{/if}} {{#if product.hasVideo}} {{/if}}
{{/each}} {{/pushedProductsPlacement4.length}}
{{loadProductsPushed('subcat','4', '','','5', '3')}} {{#pushedProductsPlacement5.length}} {{#each pushedProductsPlacement5}}

{{product.productLabel}}
{{product.model}}
{{#each product.specData:i}} {{name}}: {{value}} {{#i!=(product.specData.length-1)}}
{{/end}} {{/each}}
{{{product.idpText}}}
{{#if company.requestButtonsVisibility.requestButtonQuestion == "ACTIVE"}}
{{elseif company.requestButtonsVisibility.requestButtonWhereToBuy == "ACTIVE"}}
{{/if}}
{{#if product.innovationType}} {{else}} {{#if product.newProduct}} {{/if}} {{/if}} {{#if product.hasVideo}} {{/if}}
{{/each}} {{/pushedProductsPlacement5.length}}

Force: 2 N - 130 N
Load: 0.5 kg - 105000 kg
The SA1-MC series of industrial shock absorbers, created by Rexroth Pneumatics, are capable of stroke rates that ranges 5 mm, 8 mm and 10 mm. These shock absorbers are composed of lock nut cylinder tube and piston rod which are made ...

Force: 2.5 N - 35 N
Load: 0.5 kg - 610 kg
Rexroth Series SA1-MC industrial shock absorber can handle ambient temperature in the range of -20°C / +80°C and uses oil as a medium. It has a lock nut mounting. The cylinder tube is made of bronzed steel, piston rod is made of hardened ...

Force: 25 N - 90 N
Load: 10 kg - 5000 kg
The Series 370 industrial shock absorber is a highly reliable and robust unit made from steel, bronze, hard chromated and hardened materials making it perfect for use even in demanding environments. It features an adjustable stop weight ...



shock damper
MAKC, MAKS series

shock damper
MACC, MACS series

The Enidine Adjustable Hydraulic Series is a small bore shock absorber that provides solutions for energy absorption requirements when input parameters are not clearly determined. Through the adjustment knob, the damping force can be ...
See the other products
ITT Enidine Inc.

shock damper
RoHS | Mid-Bore series
The Adjustable Series Mid-Bore Shock Absorbers delivers an excellent performance in energy absorption application requirements. Developed by ENIDINE, these shock absorbers are fitted with an adjustment control to compensate for varying ...
See the other products
ITT Enidine Inc.

The Enidine Adjustable Series Large Bore Shock Absorber that gives out adaptable results in retention of vitality in the requisition prerequisites when it is utilized as a part of parameters. Enidine offers the broadest extent of ...
See the other products
ITT Enidine Inc.

shock damper
TK, STH series
The ENIDINE non-adjustable micro-bore hydraulic shock absorber is a compactly made series of tamperproof absorbers which are designed to work under changing energy state. It comes in a miniature design which grants a vibration and deceleration ...
See the other products
ITT Enidine Inc.

shock damper
RoHS | ECO series
ITT Enidine is revolutionizing the economic cushion market with the discharge of the industries initial environmentally friendly style. The ECO Series was planned utilizing materials and liquids that are alright for nature. Models have ...
See the other products
ITT Enidine Inc.


shock damper
MC5 - MC75 series
Load: 0.3 kg - 36.2 kg
The industrial shock absorber offers safe and reliable production with optimal service life of the machine. The light-weight, low cost construction device is used on quiet and economic machines to reduce machine load and operating cost ...
See the other products
ACE Stoßdämpfer GmbH

shock damper
MC150 - MC600 series
Load: 0.9 kg - 4536 kg
These miniature shock absorbers are designed for reliable and safe production in industrial applications. They offer advantages such as low operating costs, lightweight construction, long service machine life, low loads, quiet machine ...
See the other products
ACE Stoßdämpfer GmbH

shock damper
SC190 - SC925 series
Force: 0.7 N - 1952 N
Load: min 0.7 kg
Miniature Shock Absorbers are designed to withstand long period of service life with high rigidity to resist extreme pressure from the environment, considering the rolling diaphragms which provide powerful sealing to the device. Its ...
See the other products
ACE Stoßdämpfer GmbH

Load: 1 kg - 6350 kg
The Miniature Shock Absorbers SC²-Series of industrial shock absorbers by ACE are built with light weight and cost efficient construction coupled with low machine load that results in low costs of operation, high service life of the ...
See the other products
ACE Stoßdämpfer GmbH

Load: 0.2 kg - 2040 kg
The Miniature Shock Absorbers MA line are designed for long machine service life and high quality, cost-effective production rates. The MA series is capable of producing low rates of stress transmission to machines, without any need ...
See the other products
ACE Stoßdämpfer GmbH

shock damper
MC x5 series
Type MC 5 to MC 75 Miniature Shock Absorbers are self-contained hydraulics used to decelerate loads quickly, gently and without any recoil or bounce back. The shock absorbers have an extremely compact design for use in small robotics, ...
See the other products
ACE

Type MC 150 to MC 600 Miniature Shock Absorbers are self-contained hydraulics that are used to decelerate loads quickly, gently and without any recoil or bounce back. The MC 150-600 shock absorbers offer a long service life due to the ...
See the other products
ACE

The SC2 Miniature Shock Absorbers Series from ACE Controls feature elongated and stretched stroke lengths (SC2 925 with 40-millimeter "superstroke"), an alternative side loading adapter (SC2 190M, 300M, and 650M models only; deliver ...
See the other products
ACE

shock damper
SC x5, SC 190 series
Designed by ACE Controls, the newest additions to the award-winning SC2 300 and SC2 650 Heavyweight Series are the new ultra-high energy SC 25, SC 75 and SC 190 heavyweight models. These provide up to 280% of the energy absorption capacity ...
See the other products
ACE

shock damper
SC2 300, SC2 650 series
ACE Control's SC2 300 and SC2 650 Series of heavy-duty and high-performance shock absorbers provide up to a (potentially) maximum of 950% of the actual working weight capacity of typical instruments with the same functions, as well as ...
See the other products
ACE

Diameter: 1.2 cm - 10 cm
Maximum length: 3.3 cm - 19 cm
Force: 2.5 N - 47.1 N

shock damper
PUDZ III series
The PUDZ III series is a series of hydraulic buffers that are made for emergency stop applications involving cranes, heavy machinery and material handling tool. Their piston size ranges from ø 63mm up to ø 160mm. Their stroke lengths ...

shock damper
Herkules III series
Pressure driven Buffer is basically utilized for crisis stoppage of supplies. They are for the most part connected away and recovery machines.The cylinder size reaches from 40 mm to 63 mm with stroke lengths of 100 mm to 1200 mm. The ...

The Hydraulic Buffer type PUDZ Capsule is used as a shock absorber. The buffer is especially made for emergencies. It stops the applications in general mechanical engineering. The piston has a diameter of 50mm and 63mm. The stroke lengths ...

The SWD series is manufactured by Romer, and is a rope rocker damper that is incorporated with a rope rocker system, which is integrated with an automatic switching valve that ensures fast apply times and very low reset forces . It has ...

The Disturbance damper/safety TSP is manufactured by Römer Fördertechnik GmbH. The product is made of stainless steel that makes it corrosion resistant. The device is suitable for water depths and it can reach as far as 2,000 m. It ...

shock damper
1.5 - 350 Nm | StandardEnergy
The M series is a shock absorber, manufactured by ZIMMER GROUP. This product is provided with an industrial damping technology and soft close systems. These systems includes complete "all in one" processing, assembly systems and module ...

shock damper
0.5 - 1 200 Nm | StandardEnergy
Highest quality for the most extreme requirements and loads High power consumption thanks to maximum utilization in each piston position Low-vibration and precise braking due to the constantly narrowing spiral groove Less wear thanks ...

This rubber-metal damper is developed by STENFLEX®. This damper can work as an absorber in machines, measuring instruments, motors, pumps and industrial equipment. In these applications, they deliver an efficient way of insulating structure-borne ...

The SH Shock Absorbers are designed to eliminate every damaging collision force produced by unsteady loads and objects. The moving loads may be halted through a supplied energy with similar and equal levels. Through this manner, the ...

KINTO presents shock absorbers at excellent quality and economical price. They provide a range of shock absorbers (oil damper) for shock reduction. Specifically these are used during initiation process in operating functions of vacuum ...

Diameter: 0.46 cm
Maximum length: 3 in
Minimum length: 1 in
The MHD series is a range of 9/16 inch bore hydraulic shock absorbers in numerous stroke lengths with several dampening rates. The pistons have orifice and check valves for dampening in a single direction. Clevis noses mounts, and clevis ...

shock absorber
max. 200 kg
The cylindrical feet shock absorbers from Barbieri rubber are comprised of a rubber ci vulcanized directly to a metal part, usually consists of a disk and an attached screw. They are made from the rubber SBR that exhibits good mechanical ...

shock absorber
max. 180 kg
These rubber cone shock absorbers are manufactured by Barbieri. The shock absorbers come in two different rubber types - the standard styrene-butadiene rubber (SBR) or the nitrile rubber (NBR). They are offered in diameters ranging from ...

shock absorber
max. 100 kg
Barbieri PARABOLIC PARABOLIC SHOCK ABSORBERs are made of a rubber piece vulcanized straight to a metal piece and typically features a screw as well as a disk. The corresponding casting of rubber metal in the basic shock absorbers manufacturing ...

shock damper
GT / GC series
Maximum length: 1000 mm
The Alpha Gel Tape and Chip is a simple solution for vibration isolation and shock absorption. The device is ideally used on tight spaces. With its softness and high performance, it helps in protecting sensitive equipment such as hard ...

Maximum length: 1000 mm - 2000 mm
The Alpha gel® is a gel type shock and vibration absorber, manufactured by eTaica Corporation. This product is generally used for computers, digital cameras and electronics. It protects sensitive devices in electronics like hard disc ...

low-frequency vibration damper
MN / BG / SF series
Load: 2 kg - 300 kg
Alpha GEL vibration insulators are used as the last layer in vibration dampening systems as they arrest low-frequency vibrations and micro-vibrations escaping common rubber dampeners. Operable under -40 to 200°C and for the load range ...

Our shock absorbers are designed to generate a linear delay in order to eliminate vibrations, noise and damage to machinery or products. They can brake moving parts quietly and smoothly or reverse their direction of movement. They absorb ...

Basic damper The basic damper is suitable for a wide range of applications. A vacant space is left in the pressure tube for the volume of the piston rod, resulting in a small idle stroke, meaning that the damping force only occurs after ...


Shock damper with bottom valve In this type of damper the oil chamber is separated from the gas compartment by a bottom valve. This means that the piston rod has no extension force. Without extension force F1 Without idle stroke Fixed ...

Diameter: 34 mm - 38 mm
Force: 6000 N
2-tube damper Two tubes with unlike diameters are arranged concentrically. The inner tube represents the working area. The space between the inner and outer tubes is the balance chamber that accommodates the oil displaced by the retracting ...

shock damper
SUROSOL® INDUSTRIE
Diameter: 80 cm - 200 cm
Load: 400 kg - 6000 kg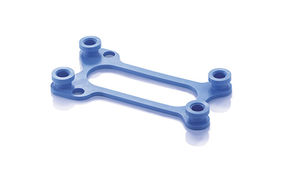 Addix, subsidiary of the Axon group, is an expert in elastomeric components. In addition to overmoulded parts including o-rings, the company manufactures overmoulded parts and components including bonded parts. Addix offer different ...

shock damper
10 - 40 kN, 150 - 400 bar | 600 series
Force: 10000 N - 40000 N
The 600 series damper cylinders assistant elements in each process that involves a higher force to be applied resulting into shocks or distortions. In this version, the oil approaches the cavity inside the tool owing to the square base ...