How to choose this product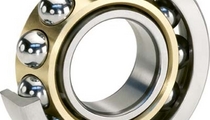 Like all rolling bearings, ball bearings consist of two concentric races and rolling elements held in place and separated by a cage. Here, the rolling elements are spherical. Different types of bearing are used for different load levels.
Applications
Extremely common in mechanical assemblies with a rotating shaft, ball bearings exist in a wide variety of sizes and shapes for use in extremely diverse moderate-load applications.
Technologies
Ball bearings are composed of two races holding one or several rows of balls. Load capacity depends on bearing type: angular contact, four-points contact, etc. They can be made of different materials, including ceramic, plastic and steel. Available with or without an integrated seal, some models are pre-lubricated.
Advantages
- Rotation velocity
Disadvantages
- Fragility
- Life span