How to choose this product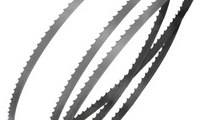 A band saw blade, also called a band, is a toothed blade riding on two wheels. It cuts in one direction only.
Applications
Such bands may be used either for horizontal or vertical band saws.
Technologies
Band saw blades are pre-welded when its length is known or standard. If the saw is equipped with its own blade welding system, the band comes in a roll.
How to choose
Blade tooth dimensions will depend on the material to be cut and the required precision. Blade length will vary with the saw.