How to choose this product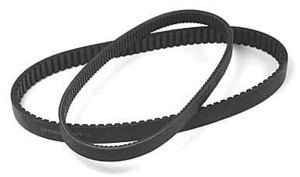 A transmission belt is a loop of flexible material used to link two or more rotating shafts. It can transmit power or motion without losing synchronization. It transfers continuous rotational motion between a drive shaft and a driven shaft separated by a fixed distance.
Applications
These belts are best known from their presence in automobile engines, which often have a toothed timing belt and a ribbed accessory belt driving the alternator, power steering pump, water pump, etc. Similar belts may be found on motorcycles, bicycles and in numerous industrial settings requiring power or motion transfer, notably on conveyors.
Technologies
Each of the many different types of transmission belt has its particular characteristics. These include flat, round, trapezoidal, ribbed and toothed belts.
How to choose
Choice will depend on:
- Power to be transmitted
- Speed of drive and driven shafts
- Shaft separation
- Space constraints
- General conditions of use (vibration, surge, shock, temperature, humidity, dirt, etc.).
Advantages
- Silent transmission at high speed
- Spans large gaps
- Simple and economical
- Dampens shocks and vibrations
Disadvantages
- Relatively short life
- Low torque capability
- Requires proper tensioning