How to choose this product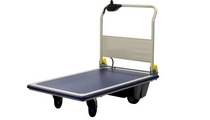 A cart is a piece of industrial equipment used for the efficient movement of loads, including tools and parts.
Applications
Carts are used in warehouses and factories to move all sorts of parts and manufacturing materials. They are useful in workshops for keeping sets of tools together.
Technologies
In general, these vehicles have four wheels, two of which swivel and lock. The wheels are non-marking. Configuration can be varied to suit the work station. Platforms and shelves are movable and can be tilted. Tool carts have drawers. Galvanized mesh models are used to handle linens in laundries. Platform carts have a handle, which often folds to simplify storage. Some versions are motorized.

Carts designed to carry gas cylinders or drums tilt to facilitate loading. Some are equipped to be handled by a forklift or crane. Those carrying drums filled with liquid may have a drip tray. Spool carts are used in metallurgy and the steel industry. Frictionless carts riding on an cushion of air can handle loads of several tons.
How to choose
Choice will depend on cart dimensions, weight, carrying capacity and constituent materials.