How to choose this product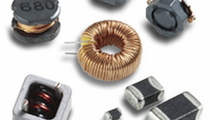 A coil is an inductive component designed to limit variations in the current flowing through it. It consists of a wire conductor wrapped around a magnetic core.
Applications
Coils are used in electronics, electrical installations and in automobiles.
Technologies
The coil is wrapped around a ferrite torus or an air core. Its inductive value depends on the number of turns and the magnetic permeability of the core. It filters signals or constitutes part of an oscillating circuit in electronics. When used as a choke coil, it filters high-frequency electromagnetic interference (EMI). Common mode coils block current surges toward ground, thus preventing overvoltages.

Shunt coils compensate capacitive current in transmission lines or electrical networks. Other single- or three-phase coils smooth electrical line voltage by suppressing harmonics. Choke coils protect power-factor correction capacitors in electric motors. High power causes electrical losses in coils. To counter this, they can be ventilated, have a cooling system or sit in an oil bath.

Ignition coils supply the spark to ignite the air-fuel mixture in the cylinder of an internal combustion engine.
How to choose
Coils are rated in Henrys, by maximum current and overvoltage capacity, by series resistance and band width.