How to choose this product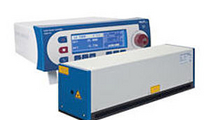 A diode laser is a solid, semiconductor laser. In each diode, the p-n junction amplifies by electrical injection, or pumping. A single diode has little power. To increase power, diodes are grouped in bars, which are then stacked. This stacking combines the power of numerous beams to attain power levels of 10 kW.
Applications
A simple laser diode can be combined with a fiber optic system for optical telecommunications. It can also be employed in engraving and in optical readers, e.g., DVDs. The combination of several beams creates power levels suitable for fusion, machining and welding.
Technologies
A diode laser consists of a multitude of small laser diodes arranged in bars. Each bar has cooling circuits and a tiny lens to focus the beam. The original beam is emitted in the form of a cone. Then, the light from several stacked bars is fused into a single beam.
How to choose
Choice of diode laser will depend on intended use. Diode lasers use electrical pumping. The gain medium, the material used for the p-n junction, will determine wave length and power. Power will depend on pulsed or continuous operation which will determine the deposited power.
Advantages
- Compact
- High power (kW)
- Fiber-optic compatible
- Efficiency of 60%