How to choose this product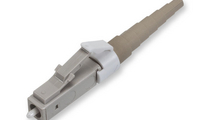 A fiber optic connector is used to join two optical fibers or an optical fiber to a transmitter or a receiver. It ensures proper transmission via precise fiber alignment and a high-quality optic interface.
Applications
Usually, the connector is factory-installed or on-site using special gluing and crimping techniques. Quick-assembly connectors facilitate the field mating of optical cables for the installation of local area network (LAN) communication systems.
Technologies
The fiber is inserted into a protective case, the ferrule, which fits into the connector and ensures precise fiber alignment. The type of fiber-end polishing determines the compatibility between fibers: PC, SPC, UPC or APC. Fasteners position the cables face-to-face. The various LAN connectors use a 2.5 mm standard.

Connectors can be bayonet multimode ST, push-pull square SC or small-sized (LC). Duplex SC refers to a double connector. The FC single-mode fiber type is round and features a screw mount. Small-section single-mode fibers are equipped with SFF connectors: LC duplex, MT-RJ or SG (VF-45). Many other standards exist, including MTRJ, ODC VFO, SMA and MIC.
How to choose
Choice of connector will depend on its insertion and reflection loss specifications (in decibels), locking mechanism and whether it is single-mode or multi-mode.