How to choose this product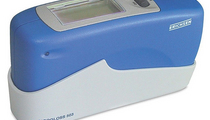 A portable glossmeter is a compact instrument for making objective measurements of the surface brilliance of such materials as paint, plastic and paper.
Technologies
A glossmeter measures light reflected from a surface by specular reflection. Results depend on the angle of incidence of the light source and the sensor. Five standard angles cover the gamut of applications: 20°, 45°, 60°, 75°, 85°.
How to choose
A glossmeter can use from one to three angles of measurement, depending on how sophisticated it is. Choice will be made on the basis of intended use:
- 20° for high-brilliance surfaces
- 60° for surfaces of medium brilliance
- 85° for low-brilliance surfaces
- 45° for ceramics, textiles, etc.
- 75° for paper