The Online Industrial Exhibition

heat exchanger with spiral tube
FEP, PFA, HP, PVDF, Q series
AMETEK Minicoil Heat Exchangers made with fluorocarbon resins are used primarily in small metal finishing baths where corrosion is often a problem. The chemically inert, well-known nonstick characteristics ...
See the other products
AMETEK Fluoropolymer Products

Operating pressure: 0 bar - 6 bar
Temperature: 20 °C - 90 °C
Technical Data Sheet Pump flow rate between 25 and 66l/min (6.6 to 17.4 USGPM)rBlower flow rate * between 600 and 2500 m3/h (between 353 and 1471 CFM )Admissible delivery pressure * up to 6 bar (87 psi)Operating temperature between 20° ...

multi-tube heat exchanger
HRS AS series
... therefore heated or cooled from both sides. Corrugated tubes are used to increase heat transfer rates. The result is a highly efficient heat exchanger for difficult heat ...
See the other products
HRS Heat Exchangers

Vital protection of modern electronics At all levels, today's modern society is completely dependent on the smooth operation of IT systems. The right operating climate for IT systems therefore also plays a vital role. The more complicated ...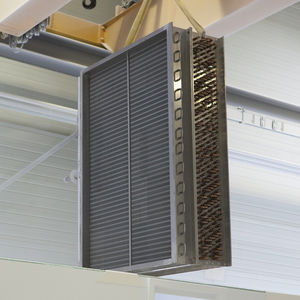 shell and tube heat exchanger
... , alver, almg2.5 Treatment - All the heat exchangers installed in a Sodistra AHU intended for an aggressive atmosphere are treated with a Heresite coating. - Other treatment solutions for heat ...

plate heat exchanger
Olimpic P
Olimpic P is a plate heat exchanger for pre-heating, pasteurizing and cooling of liquid products as dairy, beers and beverage. Olimpic P consists in a unit of corrugated metal plates with holes to allow ...
See the other products
CFT Packaging S.p.A.

multi-tube heat exchanger
The exchanger is made of AISI 304 stainless steel pipes. Removable bends on one side for inner inspection using DIN links. (On request possibility for GAROLLA, MACON and other links) Stainless steel links with threaded ...

multi-tube heat exchanger
Pure flux F
The Pure Flux F is a modular waste water heat exchanger. It results in a high energy yield even with minimal space due to its small size and surface design. The system design allows the graduation of ...
See the other products
HST Systemtechnik GmbH & Co. KG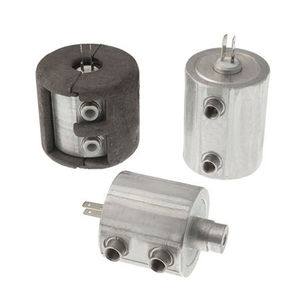 This type of heat exchanger is ideal when it is necessary to optimize the heat exchange between the cartridge heater and the fluid. this heat exchanger ...

See the other products
D.S.ENGINEERING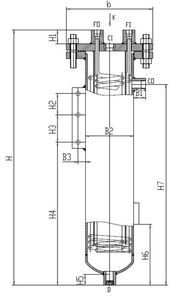 tubular heat exchanger
CYTBZ-HRQ1
Heat exchangers manufactured by CYT are specially designed to fit with API682, plan 21, plan 22 and plan 41 as well. They are specifically constructed for the cooling and warming of the operating substances. ...

plate-fin heat exchanger
Delta
Grains or oilseeds pass slowly downward between a series of vertical hollow heat exchanger plates. Hot water, steam (or waste heat) flow through the plates to heat ...

The Plate Heat Exchanger is developed by Fischer, and is especially built suitable for pasteurization process. The framework is available with different 2 frames such as multibolt closure frame and mild ...
See the other products
FISCHER Maschinen- und Apparatebau GmbH

Operating pressure: 0 bar - 21 bar
standard; • large passage; • free flow. Features • materials: AISI 304/316 and/or special steel; • pressure up to 21 Bar. A DUE offer includes tele-assistance systems, software upgrade and customized
See the other products
A Due

Applications Kühner heaters are used to heat air and gases. Then the hot gas can be used, for example in HVAC systems or dryers and ovens. Or the heat is removed from the medium via the tubes, for example ...
See the other products
Kühner Wärmetauscher GmbH & Co. KG

shell and tube heat exchanger
Operating pressure: 10 bar
Temperature: -20 °C - 350 °C
... hour. In contrast to larger models no fin tubes are used here, but lamellas to permit a particularly copmact design and a heat exchanger surface area of up to 100 square metres. Pluto is a customized ...
See the other products
Kelvion

plate heat exchanger
MIX series
Power: 14 W - 80 W
Separate inner and outer air cycles Heat exchangers can be mounted outside and inside the panel Range of specific thermal capacity from 14 to 80 W/K Degree of protection IP 54 according to EN 60529
See the other products
Rübsamen & Herr Elektrobau GmbH

shell and tube heat exchanger
Power: 14,000 W - 1,750,000 W
... is received.Each heat exchanger whose shop drawings are confirmed is only special to the process they are designed for and is generally unique. After heat exchangers ...
See the other products
TULPAR

shell and tube heat exchanger
... recommend the right heat exchanger for each heating or cooling application. Your end result will be a high quality, sanitary heat exchanger with lead-times that are ...
See the other products
Enerquip, LLC

shell and tube heat exchanger
Operating pressure: 100,000,000 Pa
Power: 0.5 W - 100 W
... 300tons After-sales Service Provided: Engineers available to service machinery overseas Name: Shell and Tube Heat Exchanger Type: Heat Exchanger Max pressures: 100MPa
See the other products
Taishan Group Co., Ltd.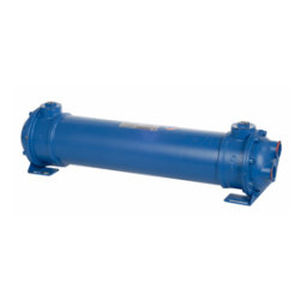 Operating pressure: 12 bar
A wide range of dimensions in water-oil and air-oil coolers are offered by us. We also offer independent cooling systems that are provided with thermostats and pumps and thermostatic valves and temperature controllers. Air coolers are ...

shell and tube heat exchanger
Polytube®
The Polytube® series is manufactured by Mersen, and is a graphite tube heat exchanger that has an internal production of graphite tubes, which is available in tubes including XBS and G30-00-220. It also ...
See the other products
Mersen - Equipements Industriels et Anticorrosion

Operating pressure: 122.58 bar
Temperature: 45 °C
Tube and Tube heat exchanger used for reducing the temperature of compressed air to about 45° C. Cooling is done by passing water in the counter current direction and due to heat transfer ...

shell and tube heat exchanger
ASME | SH series
Operating pressure: 1 bar - 150 bar
Temperature: -200 °C - 500 °C
... as tube heat exchanger, but corrugated plates are used instead of tube, plates are welded by laser or TIC and assemble into cylindrical shell, thus makes the heat transfer efficiency ...
See the other products
SmartHeat Taiyu (Shenyang) Energy Technology Co., Ltd

AIR/AIR HEAT EXCHANGES For gas cooling In heat exchangers. heat from exhaust gas is transferred to cooling air. The most common type of heat exchanger ...