How to choose this product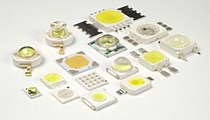 High-power LEDs are electroluminescent diodes capable of functioning with significant current loads (> 350 mA) and exceeding about 10 Watts of power.
Applications
High-power LEDs are used primarily for lighting. They are now capable of furnishing up to 100 W, and are used for both interior and exterior lighting.
Technologies
To achieve high power, the LED must be a surface-mounted device (SMD). This fabrication technique can create smaller light-emitting surfaces, leading to the composition of multi-element assemblies (matrices, strips). LEDs are commonly available in one- to three-watt models.
Advantages
- Compactness
- Longevity
- Low energy consumption
Disadvantages
- Price
- Ambient heat sensitive
- Need for cooling