How to choose this product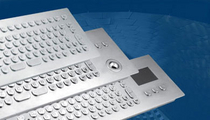 Keyboards are input devices for computers, robots or digital machines. Despite the development of alternative input devices such as mice, pens, touch-screens, and voice and character recognition, keyboards remain the most adaptable and widely-used human-machine interface.

They are composed of a number of keys with printed or engraved symbols, numbers, letters, words or images. Once pressed, these keys act as switches that send instructions to a machine.

Industrial keyboards are suitable for harsh environments, and exist in different forms for different applications: built-in, shelf, rack-mounted.
Technologies
Industrial keyboards use different technologies adapted to varying user needs. A range of contact types, constituent materials, mechanical layouts and pointing devices (trackball, touchpad, mouse button) can be combined to address the needs of extremely harsh environments: industrial, medical, agribusiness, laboratory and maritime, including embedded applications.
How to choose
One must choose between layouts varying in shape, number of keys and peripheral devices to meet the needs of the application.
Advantages
- Heavy-duty
- Multi-function