How to choose this product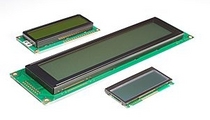 LCD displays are usually alphanumeric character displays, though they can sometimes exhibit graphic elements. They also can be units capable of showing images.
Applications
LCD displays are generally used to show text information. They can be found in automobiles, payment devices, automatons and industrial control consoles.
Technologies
LCD displays are composed of liquid crystals that move differently depending on the applied electrical field. In conjunction with polarizing filters, they can create a dot matrix, which can be made transparent or opaque. The reflection of ambient incident light or backlight on these dots creates the display.

Color displays function via the same principle, and use three cells per pixel and a supplementary grid of colored filters.

LCD displays feature one or several displaying lines. They feature, via built-in read-only memory, a character table (including ASCII characters). A control circuit manages the display and communication with other devices. External commands control cursor positioning, choice of character, blinking and other functions.
How to choose
The table of characters, the number of lines, their length, and the backlight capability will help to determine the appropriate model.
Advantages
- Large displays possible
- Easy to control
Disadvantages
- Energy consumption in backlight mode