How to choose this product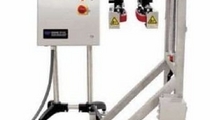 Leak detectors are used to locate integrity defects entailing fluid or gas leaks. They use tracer gases, ultrasound or, in the case of go/no go tests, flow/pressure measurements.
Applications
Leak detectors are used to test automobile parts, air conditioning systems, in the chemical and oil industries, to test pipelines, to identify leaks in water distribution and recovery networks, and to control food packaging.
Technologies
Non-destructive test methods use tracer gases (helium, mixtures including hydrogen, or refrigerant gases).

Helium detection and mass spectrometry are highly sensitive, and involve spraying, vacuum tests, or the use of a sniffer. Nitrogen-hydrogen blends offer medium sensitivity, and involve sniffing or accumulation testing.
Refrigeration and air conditioning equipment is tested using the gas in the device. An infrared absorption sensor detects the leak's location.

Pressure/flow measurement methods use go/no-go leak tests. These often involve differential or absolute pressure testing, or continuous, laminar or mass flow measurements. Ultrasound also can be used to detect leaks.
How to choose
Choice will depend on the required degree of precision and on the type of system to be tested.