How to choose this product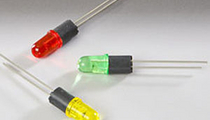 An LED (light-emitting diode) is an electronic device that emits light when a current passes through it. The nearly monochromatic nature of this light explains why the color of an LED's output is specified.
Applications
Initially, LEDs only could be used as red, green or yellow indicator lamps for electronic products. The development of blue LEDs expanded applications and led to white models. Increased output now makes them suitable for back-lighting in computer and television screens and for direct lighting, where they are replacing incandescent and compact fluorescent bulbs.
Technologies
Photon emission takes place at the diode's p-n junction. The light lacks the coherence of laser diode emissions, but is monochromatic (a single wavelength). Diode material, GaAs, GaN or InGaN, for example, determines wavelength. To create a white LED, blue light is directed onto a yellow phosphor. The use of organic substances (OLED, AMOLED, etc.) making possible LEDs mounted on flexible supports has led to new technologies.
How to choose
Choice will depend on intended use, especially that of the emission wavelength (color) required. Other factors include output (low for indicators, high for lighting) and form, from traditional to surface-mounted devices (SMD).
Advantages
- Longevity
- Low power consumption
- Low price (low-power models)
Disadvantages
- High price (high-power models)
- Diffuse beam (lighting applications)
- Low output