How to choose this product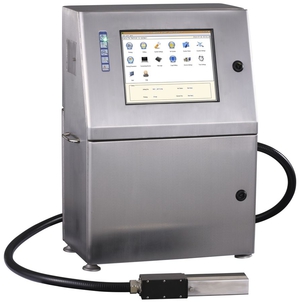 Marking machines apply durable or permanent visible indications to products.
Applications
These devices apply logos, product identification, bar-codes, or tracking information to mechanical parts, industrial materials, pharmaceutical products and packaging, or food expiration dates.
Technologies
Marking techniques depend on the nature of the material: cardboard, metal, glass, wood, concrete, plaster, rubber, etc. Marking machines can be portable or fixed; the latter are used primarily to mark objects moving along assembly lines.

Inkjet printing is rapid and of high quality. The ink can be water- or ethanol-based, fast-drying or UV-dried. Inkjet techniques include drop-on-demand (DOD), continuous inkjet (CIJ), piezoelectric printing or thermal printing. Laser marking is a rapid, non-contact method suitable for most materials. Objects are finely etched without being handled.

Other techniques use mechanical engraving (dot-peen marking, chiseling, etching), generally for metallic parts. Hot stamping uses a dry-transfer ribbon, heat and pressure to deposit a thin metallic layer.
How to choose
Consider the machine's speed and precision, and the materials to be marked.